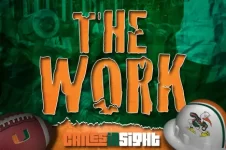 **It is unlikely that we see Rashawn Scott return this season. There is a good chance though that Scott takes a medical redshirt and returns for his fifth year. When healthy and focused, Scott gives the offense a physical receiver who can get yards after the catch. He would be a welcomed veteran addition to next year's group of receivers.
**Tim Irvin is a big UF lean at this point. Miami is not out of the picture, but Irvin has told people around him for the last few weeks that the Gators have seized a solid lead for him. If he ended up at Miami, it would be because of JaQuan Johnson and his mother, which of course gives the Canes a fighting chance. Irvin has questions about Paul Williams as a defensive back coach and that is a major factor for him.
**Jordan Scarlett and Miami have an extremely healthy relationship right now (Golden and Scarlett speak every day), but keep an eye on Ohio State down the stretch. The Buckeyes feel like they have a legitimate chance to flip the Aquinas RB. Miami does not feel threatened at the moment, but this will be something to monitor.
**I mentioned last week that Miami had cooled on Tyrek Cole and the Miramar CB committed to West Virginia yesterday. The Canes are hard on Marcus Lewis' trail and believe he is a legit option. Personally, I think Lewis a a long shot, but we will see. The focus at corner remains on Carlton Davis and Davante Davis.
**Matt Goudis re-aggravated a back injury during the FAMU game, which led to freshman walk-on Michael Badgley's opportunity to shine. Even if Goudis returns, this now looks like Badgley's job. The freshman came to Miami knowing he would have an opportunity to compete eventually and I'm told that he was one of the hardest workers on the team over the summer, which impressed people close to the program. Interestingly, Badgley was even working with the receivers a little bit over the summer in 7-on-7 work. He is a very good athlete.
**I tweeted this out a few days ago, but Brad Kaaya is on pace to throw for 30 TDs this season, which would break Steve Walsh's single-season record of 29 in 1988. Numbers don't necessarily tell the whole story considering how much the game has changed, but it would be an impressive feat nonetheless. James Coley, and now most importantly Al Golden, have the confidence in Kaaya to continue to keep the offense wide open as we have seen the last two games. He will have the chances to rack up major numbers against ACC defenses in the coming weeks. The key for Kaaya as the season progresses will be to limit the turnovers and not lock in to one receiver prior to the snap.
**An adjustment that we have seen James Coley make this season as opposed to last year is getting Duke Johnson involved more in the passing game, which can really spread the defense out and give them something else to worry about. Johnson had all of four catches last season and is already at eight through the first four games. Some of that could be attributed to Kaaya's willingness to check down to Johnson, but we have seen a variety of formations with Duke spread out wide.
**Brad Kaaya's mother, Angela, will be a guest on Keith Olbermann's show on ESPN tonight.
**I will have another edition of The Work this week focusing on Al Golden's job security and the defense.