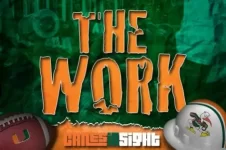 FOOTBALL TEAM
**With three games left in the opening weekend of college football, Duke Johnson leads the nation in rushing yards with 186, which is impressive considering he only played three quarters.
**Sophomore receiver Herb Waters is quickly emerging as a big-play threat from the wide receiver position. After emerging late last season, Waters had another good showing in Friday's opener with 2 receptions for 49 yards and a reverse that he took for a 63-yard score. Waters is now averaging 24.1 yards per touch in his career (12 receptions, 2 carries). His three touchdowns have gone for 87, 65, and 63 yards apiece.
**A big positive that came from the FAU game is that the kicking game appears to be in good shape with Patrick O'Donnell handling kickoff duties as well as punting, while Matt Goudis is kicking field goals. There had been positive talk about both of them from camp, but it's nice to see both of them have early success. Goudis hit field goals of 35 and 45-yards, while O'Donnell averaged 44.8 yards a punt with a long of 54 on four attempts.
**Much was made about last year's defense not being able to get three-and-out stops. The defense forced 5 three-and-outs on Friday against FAU, which was more than any single game last season. Miami forced 4 three-and-outs against Bethune-Cookman in 2012.
**The trash talking has started in anticipation of next weekend's showdown against Florida. Here is a tweet from AlligatorArmy.com's twitter page (@AlligatorArmy):
Reporter: "Big game next week."
Dante Fowler Jr.: "It's a big game because we in it."
--Fowler, Jr. is one of the UF's top defensive linemen.
**More on UF:
--RB Matt Jones is expected to return for Saturday's matchup. Jones has been sitting out since late July with a viral infection. He ran for 275 yards and three touchdowns in his freshman season.
--Converted defensive back Valdez Showers got multiple touches out of the backfield yesterday in his debut on the offensive side of the ball. Showers had 2 rushes for 31 yards and a long of 29, while also catching 4 passes. Look for UF to try to get him the ball in a variety of ways.
--One of the keys for Miami's defense next Saturday will be locating Trey Burton. Burton has shown over the past few seasons that he is one of the most versatile players in the country. UF uses him in the slot, out of the backfield, and even have a package for him at quarterback where he is used in short-yardage situations. In an offense without many playmakers, Burton is the one who can cause issues.
FOOTBALL RECRUITING
**Alin Edouard has de-committed from Miami as first reported by SFHSSPORTS.com and confirmed by Tito Benach. This was a long time coming and it leaves the class with Brad Kaaya and Malik Rosier at the quarterback position. Rosier is not a lock for the class either, so I will be very interested to see if Miami picks up conversation with Quinton Flowers and/or Treon Harris. Miami would be the favorite to land Flowers if recruited as a quarterback and would be a serious player for Harris as well despite his commitment to Florida State.
**After the offseason talk that Northwestern would use Miami commit Mike Smith at linebacker, we have seen him almost exclusively at defensive end in the first two games. Smith looks noticeably thicker than last season and has maintained his speed off the edge. He had a sack and forced fumble against St. Thomas Aquinas last night.
http://www.youtube.com/watch?v=cbdsDNAKWvo&feature=player_embedded
**Braxton Berrios was in Oregon this weekend for his official visit and will be arriving in Miami on Friday for the UF game. Miami continues to be in good shape for him. Here are his highlights from this week's game
https://www.youtube.com/watch?v=1cePAhnOeWk&feature=player_embedded
**Some stats from Miami recruits this weekend:
http://www.canesinsight.com/threads/55544-Weekly-Commits-and-Targets-stats-thread
**This Friday at Traz Powell Stadium, Booker T. Washington and Central will play in what many are calling the de-facto National Championship game. Here's a look at the type of talent on the field:
Central
RB Dalvin Cook – Florida
RB Joseph Yearby – Miami
OL Michael Smith – USF
DB Deatrick Nichols – USF
OL Trevor Darling – Miami
DT Frederick Jones – FSU
OL Reginald Bain – FAU
BTW
QB Treon Harris – FSU
DB Nigel Bethel II – Miami
DL Chad Thomas – Miami
DE Demetrius Jackson – Miami
WR Lamar Parker – WVU
ATH Krondis Larry – Samford
WR Deltron Hopkins – Appalachain State
--Combined 2014 Division-1 commits: 13 (Central 7, BTW 6)
--Central has two 2015 kids in Da'Vante Phillips and Calvin Brewton who are already being recruited heavily. 2016 LB Donovan Thompson will be a top recruit as well. 2014 OL Raul Diaz is one to watch as well.
--Booker T. Washington's James King (2015) and Vaquan Small (2015) are top-level recruits.