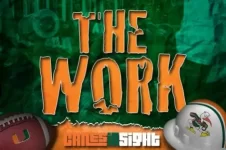 FOOTBALL TEAM
**After needing to clear up an academic issue, Augustus Edwards was placed backed on the roster today. With Danny Dillard's departure today, Edwards becomes the only true "power" back on the team. Dillard wasn't expected to be a contributor on this team.
**Freshman Walter Tucker was moved from LB to FB, where he is already listed as the backup. I liked the thought of Tucker at linebacker with his size/speed combination, but a couple people close to the American Heritage program (Tucker's school) had been telling me since the day he enrolled that he was better suited on the offensive side of the ball. He's already weighing 220.
**Golden was on the Joe Rose show yesterday morning and said that Wisconsin transfer David Gilbert has shown a lot of progress with his foot over the last 48 (now 72) hours. Gilbert has battled foot injuries over his career and has undergone multiple surgeries to the point where he had actually "retired" back in April. All reports from practice indicate Gilbert could be a major contributor on the defensive line.
**Also from his interview with Joe Rose, Golden had a great things to say about the play of freshman wide receiver Stacy Coley: "We thought we got the best one down here, now I know we got the best one down here."
**The new depth chart is out (
http://www.canesinsight.com/content/1981-New-Depth-Chart-Out
) and I'm interested to see what CB Nate Dortch can do if given an opportunity like it looks like he will be. Although he isn't the strongest, there has been talk for almost a year and a half now that he is the best pure cover guy on the team.
**Looking ahead to FAU, in a rather unexpected move, projected starting quarterback Melvin German has been moved to wide receiver:
http://upressonline.com/2013/08/fau-shakes-up-qb-battle-by-moving-melvin-german-to-wide-receiver/
RECRUITING
**Due to the early string of commitments, this is as quiet as it will be as far as recruiting goes this season before the end-of-the-year stretch.
**In your weekly Braxton Berrios update, I exchanged messages with Berrios today to see if anything had changed with him and Miami after the Brandon Powell commitment, and he said he has still been in contact with Brennan Carroll and nothing seems to have been altered.
**I interviewed Jamal Carter's blood brother Doyle Grimes a couple weeks back (
http://www.canesinsight.com/content/1942-2015-LB-Grimes-making-a-name-for-himself
) and continue to hear great things about his potential. Grimes, a 2015 prospect has played both linebacker and safety, but will making a full transition to linebacker this season. A coach who has worked with both Jamal and Doyle told me that Grimes has the talent to be what Jamal is, but hasn't shown the work ethic to reach that level yet. I will be following his season at South Dade closely.
**5-star RB Elijah Hood decommitted from Notre Dame today and Miami is still pursuing him. North Carolina looks like the front-runner right now.
**Here's one to watch: 2017 American Heritage OL Tedarrell Slaton (6'4", 300):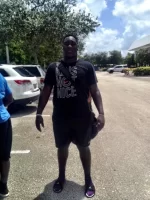 **LSU signee Rashard Robinson still has not heard from the NCAA clearinghouse.
HIGH SCHOOL
**The preseason kicks off this week with some great games. Here is a quick look at what to expect.
Thursday
Dillard at St. Thomas Aquinas - 7PM
**This is intriguing because of the potential matchups between Miami commit Dennis Turner (Dillard) and Notre Dame WR commit Corey Holmes (Aquinas) or junior stud Devante Peete. This will be the best team on paper Dillard plays and Turner will have a target on his back as the most talented player on his team.
Coral Gables-Jackson - 3PM (Game at Plantation)
**Gables is a sleeper team this year in a district with winnable games. 2015 WR Shaquery Wilson, 2015 LB Emilio Gibbs, and 2014 RB Gregory Howell lead the team. Jackson is led by none other than Quinton Flowers, who should go down as one of the greatest players in Dade County history after this season. The Generals will debut their new dynamic duo of Flowers and 2015 WR Jovon Durante (WVU commit)
Columbus at Plantation - 6PM
**The new-look explorers take on Plantation who is led by Chris Lammons at quarterback and Ravian Pierce at tight end. Columbus lost a lot offensively between Daryl Chestnut, Lorenzo Woodley, and Jesus Wilson, but return junior quarterback Tucker Beirne who should be much improved.
Friday
Mater Academy at Gulliver Prep - 4PM
**Mater Academy is not a household name, but they have a chance to be within the next few years. Former Homestead offensive coordinator Javi Valdes will be coaching in his first game as head coach against a Gulliver squad loaded with young talent. Mater's offense will be centered around talented RB Jamal Adjamah, who recently transferred over from Southridge. Gulliver 2015 LB Dominic Sheppard and 2016 ATH Dionte Mullins are early Miami targets. DB Cornileus Floyd and lineman Braynon Edwards (Tulane) are also players to watch.
Miami Northwestern at Palm Beach Central – 7PM
**This game features three Miami commitments in Mike Smith, Ryan Mayes, and Kc McDermott. Smith is expected to be used more as a linebacker this season, but the possibility of a head-to-head battle between him and Kc McDermott on the edge is exciting. It will also be the first game Mayes plays in a Bulls uniform.
Saturday
Booker T. Washington at Norcross (Ga.) – ESPN 7PM
**This is the headliner of the weekend. The Tornadoes are ranked #1 in the USA Today Super 25 and Norcross is #6. We know about the talent Booker T has, but Norcross is equally as talented with 5-star DE Lorenzo Carter, 4-star LB Kevin Mouhon (Tennessee commit), 4-star ATH Myles Autry, Miami commit Christopher Herndon, and 7-8 more who hold division-1 offers. It will be interesting to see how Demetrius Jackson plays in his first official high school game.
Central at Dwyer - (FoxSports Florida) 7PM
**This will mark the beginning of the last go-around for one of the deadliest backfield combos in high school football history (Dalvin Cook/Joseph Yearby). It will also be Roland Smith's coaching debut with the Rockets. It will be tough for the Dwyer defense to contain Central's attack, but the Panthers have one of the top receiver groups in the country, led by Johnnie Dixon and Clint Stephens. A matchup between Central CB Deatrick Nichols and Dixon is intriguing.
Sunday
University School-Homestead – ESPNU 11AM (Game at Cypress Bay)
**This game doesn't hold as much intrigue for 'Canes fans as originally hoped, but there is talent all over the field nonetheless. Homestead will unveil its wide receiver duo of Ermon Lane and Gilbert Johnson (UGA), while Sean White will lead the Suns offensively. The trio of White-Jordan Scarlett- and Sam Bruce will be a headache for defenses to deal with. I expect University to wear Homestead down.
American Heritage at Cypress Bay – ESPN 3PM
**Cypress Bay lost a lot offensively from last season between QB Jaranta Lewis, RB Matt Dayes, and WR Alex Montgomery, but Head Coach Mark Guandolo will have his team ready to play. American Heritage is absolutely loaded between Sony Michel, Torrance Gibson, Edgar Cerenord, Tarvarus McFadden, Carter Jacobs, Isaiah McKenzie, Justin Sibole, and the list goes on. I think this is the year Heritage finally gets over the hump and wins it all. This will be Mike Rumph's coaching debut for Heritage.
BASKETBALL
**Belgian point guard Manu Lecomte officially arrived at Miami according to a tweet from Assistant Coach Eric Konkol (@CoachKonkol). Ideally, Lecomte would be redshirt candidate but that does not seem likely at this point unless Angel Rodriguez is granted the waiver to play this season after transferring from Kansas State.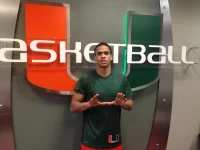 **One of the top prospects remaining on Miami's board is 6-8 SF Terry Larrier from the Bronx. Larrier is rated the #38 player in the country according to Rivals.com and is a 5-star on 247sports. He will be visiting Miami on the weekend of September 7th (apparently there's a football game that weekend). He visits VCU the week after that and those are the only two official visits he has set right now.