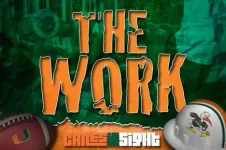 **Things are getting absolutely rolling for this coaching staff on the recruiting trail. I expect Miami to land a few more commitments by week one of the season. Some candidates for that are Trajan Bandy, Amari Carter, and Bradley Jennings, Jr.
**What a pickup for Craig Kuligowski in D.J. Johnson from Sacramento, California. Here's the scoop with him…Johnson had been notifying the staff for about a month that he was planning on committing to the Hurricanes. Originally, Johnson was going to wait until around December to announce his commitment. The Miami staff encouraged him to go public with his intentions after Paradise Camp and he was very close to doing so. After talking things over for his family, they felt comfortable with his decision and he announced it last night. He likes the idea of becoming an ambassador for the class, just like Deejay Dallas.
Miami had Johnson way up on their board, and were even crazier about him after seeing him in person two weeks ago. At 6-5, 245, he is built to get up to 275-285 and looks versatile enough to play inside. Johnson's quick step off the ball and length is elite.
Quick note on the commitment: I thought it was interesting that Calais Campbell liked my tweet about Johnson committing. Campbell was at paradise camp and got a chance to see the Cali kid up close. He seems excited.
**Amari Carter – Notre Dame insiders remain confident that he winds up in South Bend; I remain confident that he will choose Miami. It is definitely down to these two. Many are putting weight into the fact that ND has landed a teammate of his each of the last two recruiting cycles, but I am hearing that might not be as important as some believe. I also think that an announcement will come in the early part of the high school season or earlier.
**Trajan Bandy – Was on Miami campus TWICE last week. It was reported that he was there once, but he went the day after as well. 247sports had a couple of crystal balls for South Carolina after he visited over the weekend, but that would be a stunning decision from what I've heard. Miami leads here as has been trending for more than a month. Miami is not going to lose the Columbus boys.
**Bradley Jennings, Jr. – Miami has been aggressively pursuing the FSU commit for months. I've posted for a while that the staff felt very confident in flipping him, regardless of his ties to Florida State. Jennings said in an interview today that he will make his "final" decision on August 1st. This announcement is not a surprise considering he was at paradise camp. There has been speculation that the Seminoles haven't been pursuing Jennings very hard, but Miami expects FSU to make a last-second push to keep him in the class. Linebacker is not a loaded position in this cycle in the state. Miami views Jennings, Jr. as a valuable potentially paired with Waynmon Steed in this class.
**Devonta Smith – The Louisiana product released his final three of Miami, Alabama, and LSU. I'm told that he won't be choosing LSU and that the Canes and Crimson Tide are his de-facto final two. I picked up an interesting tidbit that Smith has been raving to some of his teammates about Miami, but I haven't heard anything from Miami's side to indicate that he is leaning their way. His decision date is August 15th and I still expect Bama. Maybe the Canes are trying to keep something quiet, though.
**As Miami offensive line commit Navaughn Donaldson continues to raise his stock, Florida, Florida State, USC, and others are pursuing him. Miami is not worried about his commitment. His mother is a huge advocate of him staying home and he knows he is a day-1 starter next season.