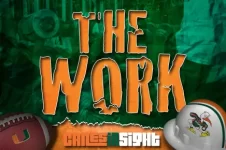 I will have more throughout the day and in the coming weeks, but early returns from the Mark Richt hire indicate this could wind up being a very strong finish for Miami. It is so early still that new targets will arise and there will be movement throughout this class, but this is what I have heard to this point.
**I'm told that Miami's in-home visit with QB commit Jack Allison went extremely well last night. It remains to be seen what Miami does in its pursuit of Jacob Eason, but Allison made it clear that he was committed to the program and is a big fan of the Richt hire. I was also told that although Larry Scott, James Coley, and Art Kehoe found out about the hire while doing the in-home, they endorsed the hire to Allison and told him that Richt would be a great coach to play for.
**The December 11th recruiting weekend is shaping up to be a huge one for Miami. Commits such as Allison, Shaq Quarterman, and Mike Pinckney will be in Coral Gables with uncommitted targets DE Patrick Bethel (Canes legacy) and DE Jordan Woods. Former Miami commitment Zach McCloud is expected be there as well. He is expected to flip back to Miami, which would be a tremendous pull. McCloud might have the highest ceiling of any player in the class.
**Miami also went in-home with recent RB commit Jawon Hamilton of South Dade last night.
**Up to this point, Miami had not been recruiting Coconut Creek WR Binjimen Victor, but it looks like that will change with Richt. Victor is a big-bodied receiver (6-4) who can go up and get the ball. Something else to track at Coconut Creek is CB Malek Young, who is an Army All-American as well as Victor. Young is currently committed to Georgia, but there is talk that he will give Miami a serious look now.
**Hallandale CB Deion Jackson is a solid Miami commitment, according to sources. Jackson might not get a lot of publicity nationally, but he is a smooth corner with length and speed. 6-2 with range.
**RB Travis Homer is another recruit who is considered rock solid with the Canes.
**Sam Bruce will be a Cane.