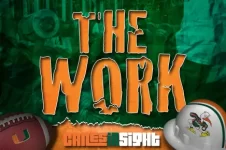 **This weekend did not do much for Miami with Tim Irvin. A strong in-home visit by Charlie Strong last Thursday made a big impression on him. Still a fluid situation, but the visit did not boost Miami any higher up than they already were.
**There is talk about Anthony Jones flipping to Miami and that is accurate right now. The one thing I will say is the Canes would take him as a receiver, not a running back, and I'm a fan of that move. Jones is built physically like Rashawn Scott and that is a very good thing. He could see the field early at Miami.
**Last weekend while on his official visit to Miami, Da'Vante Phillips was telling people at Miami that he would be a Cane come signing day. Of course, things like that rarely turn out to be true, but it is something worth passing along. Phillips is very close to Anthony Jones and that could play a bigger role than most realize.
**Tevon Coney took an official to Miami over the weekend, but it was just a formality. Don't expect anything to come of it.
**Miami is extremely high on JUCO OT Jahair Jones and he is absolutely a take for them. The staff has made him a major priority and they believe he has the ability to step in and play from day one. He would be a very big get.
**There has been a lot of talk about Jacksonville product Javarius Davis over the past few weeks, but I am told he is not a priority for Miami right now, mainly because of his size. He took an official this weekend, but again he is not expected in this class.
**Keep an eye on a kid that DMoney mentioned yesterday in the his post about the most underrated players in South Florida, Robert Knowles. Miami is looking at Knowles as a possible sign-and-place candidate because there are still some questions about his grades. If everything checks out with him, I would not be surprised to see Miami offer late in the game. The kid is a stud.
https://www.youtube.com/watch?v=k9Ezk463O5Q