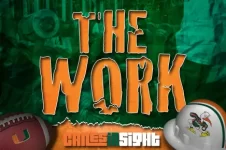 **The strength of Miami's class right now is on the offensive line, and I feel very confident in saying that Miami will land Jalen Merrick of New Smyrna Beach as well. The Canes hold a strong lead right now for him and it is only a matter a time before he makes his announcement.
**2016 LB Zach McCloud is a big get for Miami before he blows up. He is a long, rangy athlete with plenty of versatility and the Canes are piling up quite the linebacker class between McCloud, Shaq Quarterman, and Mike Pinckney. Miami is absolutely fired up about his commitment.
**Miami felt like Shavar Manuel's trip over the weekend was very successful. Manuel has a high interest in the Canes, but FSU will be tough to beat here. The 5-star 2016 DE was in town for the game on Saturday night and on Sunday he was shown around campus.
**2016 Columbus RB Ivan Smith (5-11, 185) has emerged onto the scene this season as an elite prospect. His size/speed combo is exactly what you look for at the position. Smith is a kid who many around Columbus have talked about over the past two years, but he has gotten his chance to shine with Amir Rasul transferring to Coral Gables and Oshton Armstrong graduating. The Explorers face Gables this week in a regional semifinal matchup.
**Florida's firing of Will Muschamp further increases the Canes' chances at Tim Irvin. Irvin was in Gainesville last weekend for his official visit and a source said that in a face-to-face conversation on Sunday morning, Muschamp told Irvin that he had been fired. The only chance UF has with him now is if Travaris Robinson is retained by the new coach, which is possible. Even if that were to happen, Miami is in good shape.
**Miami will need to fight to keep Michael Jackson's commitment down the stretch. He is a legit 6-1, 200-pound corner who ran very well at Miami's camp. The Canes thought it was the best camp workout they have seen besides P.J.Williams. His toughness is also an asset.
**I'm heading to Booker T. Washington practice tomorrow to catch-up with Antonio Calloway, Davante Davis, and others. The Tornadoes face Glades Central on Friday at 7:30 at Traz Powell. I will be calling the game on 560 WQAM alongside Wesley Carroll.
**Also, be on the lookout for a new weekly article I will be writing with Basketball team notes/rumors. It will be like The Work, but a basketball edition.