The Work 10-30 (Coaching Search)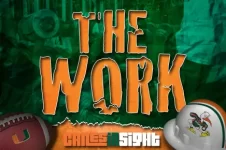 **Yesterday, a tweet emerged saying Butch Davis was at the Biltmore having drinks with Jackson Health CEO Carlos Migoya. It is unsure what role Migoya has in the coaching search, but a source tells me that Migoya had lunch with Mario Cristobal today at Christy's in the Gables. It is entirely possible that Migoya is serving as some sort of middleman in the process. Cristobal was in Miami today recruiting.
Butch Davis/Migoya tweet –
https://twitter.com/doug_hanks/status/659859104425484289
**Also of note, I found this article in the Miami Herald, where Migoya is endorsing Julio Frenk as Miami President. -
Migoya: Welcome, Dr. Frenk | Miami Herald
**Sources close to Cristobal indicate that he already has an idea of who he would include on his staff. James Coley would be retained most likely. Bama DB Coach Mel Tucker would be a frontrunner to become defensive coordinator. Marshall OL coach Alex Mirabal would replace Kehoe.
**Do not count out Cristobal on being part of Rob Chudzinski's staff if Chud is the guy. Mario's brother, Luis, was Chud's roommate at Miami and the families are close.
**I can also confirm the reports that Charlie Strong does have interest in this job. Sources close to his agent Jimmy Sexton say that Strong may not be all that happy in Texas. Interestingly enough, Dennis Dodd wrote last week that power agent Jimmy Sexton would love to get one of his clients in this race. Scroll to the section on Mark Stoops –
Greg Schiano leads 12 candidates to replace Al Golden at Miami - CBSSports.com