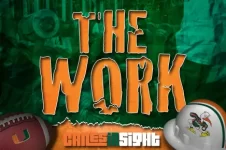 What a difference two weeks can make. At the start of October, Miami was a Top 10 team (whatever that means) riding high with momentum on-and-off the field – the Canes were getting ready to catapult themselves onto the national scene with a win over rival Florida State as approximately one hundred high school recruits packed the stadium to watch them do so.
Miami did not beat the Noles and then they lost again this weekend to North Carolina. The Canes dampened their chances at the ACC Coastal, but the manner of the loss to the Tar Heels was disturbing to Canes fans – especially the continued regression of the Miami offense, which has stalled in back-to-back weeks against defenses that appeared to be vulnerable.
The most ironic part of Miami's problems offensively is that it's at the point of the season where we can say this defense is for real.
Manny Diaz's group did their part once again. Although UNC QB Mitch Trubisky threw for 299 yards and the Tar Heels amassed 461 total yards, Miami held them scoreless in the second half including an impressive goal line stand that give the Canes life at the start of the fourth quarter. Miami's defense has not been a brick wall in the last two games against UNC and FSU, but they've made more than enough stops to give the offense their opportunities.
Nobody was more disappointed in Miami's offensive effort yesterday than Mark Richt. A source told CanesInSight that he was particularly hard on himself this morning and he will be assessing the way that he's been calling games. Part of Miami's struggles offensively can be attributed to the players, but Richt knows that the game plan must be better. The offensive line has been abysmal, Brad Kaaya has not been sharp, receivers have not been consistent catching the football – blame it on whatever you want, but Miami's offense must be better to salvage this season whatsoever.
It seems obvious at this point that Mark Richt knows his offensive line is the weakness, and has tried to adjust by limiting downfield passing plays that would leave Kaaya susceptible to big hits, but changes need to be made. To this point in his career, Kaaya has shown that he needs a clean pocket to be successful. It's obvious he is not the most fleet of foot, but Kaaya will need to make more throws like the ones he made to Ahmmon Richards and Chris Herndon on back-to-back snaps on Miami's touchdown drive late in the third, where he was able to extend the play momentarily after initial pressure to get the ball downfield.
Miami heads into Blacksburg on a short week and open as 5-point underdogs. At the first crossroads of his Miami coaching career, the Canes' chances rely on Richt getting Kaaya going midway through what was supposed to be his breakout season. Thursday night will determine how willing Richt is to make changes.
RECRUITING UPDATES
**Dating back to the spring, Miami felt very good about their chances with two high profile out of state prospects in particular – D.J. Johnson and Anthony McFarland. Johnson proved the staff's confidence correct by committing shortly after visiting Miami for paradise camp in July. McFarland, on the other hand, was in Miami in late March but had not returned since then after having a couple scheduled visits postponed.
Miami hosted McFarland on his official visit this weekend. Not only do the Canes have a realistic opportunity to land one of the nation's top running backs – but they are in the driver's seat. I would classify Miami as the favorites to land the Dematha Catholic prospect right now.
There have been questions concerning McFarland's broken fibula injury that he suffered during a preseason scrimmage. McFarland underwent surgery and is already getting around fine. Miami believes that Joseph Yearby and Travis Homer suffered more severe injuries during their high school career so this is not something that has affected their recruitment of him.
**The Hurricanes are posturing to land the American Heritage duo of offensive lineman Kai-Leon Herbert and Teddarell Slaton, who have both been increasing their contact with Miami recently. The Hurricanes coaches believe that these two are impact players from day one in Coral Gables and they are recruiting them like it.
Herbert is a Michigan Wolverines commitment, but Miami's biggest bargaining chip with linemen remains the opportunity to see the field early. Michigan coaches went all over the country on their bye week to visit commits and targets, but they did not send a single coach down to south Florida to check on Herbert. Miami is selling him the chance to start at left tackle next season.
Speaking to a few local coaches who have seen Herbert play, almost unanimously the thought on him is that he must add strength, but he is a left tackle prospect all the way and is an A-plus athlete at the position.
Much has been made over the last five years about Miami's inability to land prospects from American Heritage – Sony Michel, Torrance Gibson, Tarvarus McFadden, and Brian Burns are all ones who got away. Hiring Mike Rumph as cornerbacks coach was supposed to quell whatever "issue" was there.
Given Miami's immediate need for an infusion of offensive line talent, landing the duo of Herbert and Slaton to pair with a 5-star caliber player in Navaughn Donaldson would turn out to be the biggest recruiting coup for Mark Richt in his first full recruiting cycle.
My prediction is that Miami will sign these two in February.
Kai-Leon Herbert highlights
[HUDL]video/3/3898911/5721d8d84df6124b70271991[/HUDL]
Tedarrell Slaton highlights
**Miami hosted IMG Academy TE Tre' McKitty for an official visit this weekend. Formerly a Canes commit when Al Golden was at the helm, McKitty is currently a soft commit to Oregon. A source at Miami said the Canes are "full go" on McKitty and plan to prioritize him down the stretch at tight end.. With Brian Polendey in the fold already, Miami likes the idea of adding McKitty as a versatile weapon – similarly to how Chris Herndon's skillset is being used in the offense now. The two videos below show that he is an effective blocker and can line up in multiple spots split out wide or in the slot. Miami internally believes that they are in the thick of things for him, but he will still take trips to Auburn, Oregon, and Florida as well. He is an early enrollee.
[HUDL]video/3/3390156/5721d4d09a91677e74a710f2[/HUDL]
[HUDL]video/3/3390156/57d55fb7842eb30ce4e3ea34[/HUDL]
**Just a reminder that Miami safety Amari Carter announces his decision on Saturday night at 7 p.m. All signs point to him choosing the Canes.
[HUDL]video/3/3434041/5721e6e39a91677e74b7b25d[/HUDL]