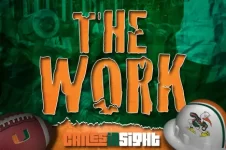 **This last weekend could not have gone any better for Miami with Jordan Scarlett. Over the past month with rumors circulating about the strength of Scarlett's commitment to Miami, the Canes coaching staff has held a quiet confidence about keeping him, although they knew it would still be a big battle with UF and FSU. The game-changer for Miami? Brad Kaaya taking this recruitment on his shoulders. Kaaya was Scarlett's host for the weekend and I am told that people close to the elite running back believe it is unlikely he flips from Miami now. The thing to remember is that he still has visits to Florida and Florida State over the next two weeks, but the weekend in Coral Gables solidified him as much as possible before heading upstate. I personally feel a lot more confident about Miami's chances with him. 2016 WR Sam Bruce (Scarlett's close friend and Miami commit) also came along for parts of the visit and that is a great sign for the Canes.
**Things are looking more and more positive with Robert Knowles and his chances to qualify. The Miami staff absolutely loved his attitude while he was on his visit and his 6-2, 185-pound size is legitimate. Canes coaches are also pleased in his recruiting efforts in Dade County. He is reaching out to the guys Miami is recruiting from down here and really trying to make an impact on this class.
**Antonio Calloway remains Miami's top priority at slot receiver, but the top thing Miami needs to sell him on is early playing time, which is what his decision will come down to. I'm told that the Canes have plans to get him on the field early and often, which bodes well for their chances. There is not really anybody on the Miami roster that brings Calloway's skillset to the table. The hope is that he could evolve into the type of threat that Phillip Dorsett was for Miami.
**As has been reported on other sites, CB Marcus Lewis has the Canes leading at the moment. Most Canes fans have been critical of the job Paul Williams has done in this recruiting cycle, but he has done a tremendous job with Lewis. Miami has been on him hard for months and have felt like they were the team to beat for a while before some Michigan talk came into the picture. Although a DB class of JaQuan Johnson, Robert Knowles, Michael Jackson, and Marcus Lewis is not what a lot of Miami fans envisioned early in the cycle, it would be a very solid pull. Knowles, Jackson, and Lewis all have elite size…and we know what JaQuan can do. Miami is still recruiting Davante Davis as well. It remains to be seen if the Canes are legitimately in the picture for him.
**Miami WR commit Lawrence Cager visited Alabama this weekend but there is not much concern from the Miami side. He will be in Miami this upcoming weekend and that should seal the deal for the Canes. As has been a common theme throughout this class, Brad Kaaya's presence is huge here. The two have been in communication, even after his 'Bama trip.
**There has been some concern about Tyree St.Louis' status with Miami, but this weekend locked him in with the Canes. Nobody at Miami is worried about his commitment level. His visit was a success. St. Louis is an extremely talented prospect that does not get enough love in this class in my opinion. He could be a big part of the OL rotation next season.