The Opening viewing guide for Canes fans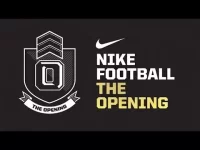 The Opening, a 4-day event with 166 of the top high school football prospects in the country, begins on July 7th.
The week will include a combine style testing circuit of 40-yard dash, shuttle run, vertical jump, etc., as well as a 7-on-7 portion for skill players and a lineman challenge.
In order to qualify for the event hosted at Nike's headquarters in Oregon, prospects must have competed at regional combines and are selected based on their performance.
The Opening will begin airing on Saturday, July 9th on ESPNU at 8 p.m. and Sunday, July 10th at the same time. Here is a list of Miami Hurricanes targets competing in the event and what you should be watching for throughout the week.
CB Trajan Bandy – Columbus
What to watch for: The aggressive Columbus corner tends to shine brightest when the competition rises, so I expect for him to impress at the event. It will be interesting to see how he matches up against taller receivers when he is on an island in one-on-ones. He's a fun prospect to watch in terms of his emotion for the game.
Where the Canes stand: The more that I hear on Bandy leads me to believe that it is a matter of "when" not "if" he flips from Oklahoma to Miami. And as Deejay Dallas noted in the CanesInSight podcast earlier this week, Bandy is in a group chat of Canes commits. That's gotta count for something, right?
RB Darrian Felix – Fort Myers
What to watch for: Felix is an explosive playmaker out of Fort Myers who has the ability to go the distance whenever he touches it. He doesn't have a huge frame, but could be a standout player catching passes out of the backfield or in the slot in 7-on-7 play.
Where the Canes stand: Miami is in good shape here, but with Anthony McFarland having the Canes high on his list and Robert Burns committed, Felix might have to secure his spot sooner rather than later. I sense that Miami is not going to wait around until the end of the cycle for him.
CB Chris Henderson, Jr. – Columbus
What to watch for
: This could be an eye-opening event for talent evaluators when it comes to Henderson's rankings. It's going to be fun to see the 40-yard dash time that the local prospect posts. Most schools are recruiting Henderson as a cornerback because that's where is upside is, but he has only taken 5 snaps in HS career at defensive back. This will be a very good test for him up against the nation's best at receiver.
Where the Canes stand
: Henderson is committed to the Hurricanes. A few weeks ago, he was set to decommit before Miami coaches got him on campus the next day and talked him out of it. Ultimately I would be surprised if he doesn't wind up at Miami, and once his close friend and HS teammate Bandy jumps on board, that should completely lock him up.
RB Anthony McFarland, Jr. – Dematha Catholic
What to watch for
: At 5-8, 185, McFarland is like Felix in the sense that he can line up all over the field as an offensive weapon. He shows the ability to catch the ball split wide and run between the tackles. Obviously with this being a non-contact event, we won't see that this week, but his 40-dash time will be intriguing. Some have questioned his breakaway speed, so this is an opportunity for him to put those questions to rest. My guess is that he will be between the 4.48-4.53 range.
Where the Canes stand
: The Dematha Catholic (Md.) product is a national prospect who is essentially down to Miami, Alabama, and hometown Maryland. The Canes have put themselves in great position over the summer and he could be visiting again this month. His decision is not expected anytime soon, though. I would classify Miami as his leader based on what I've heard. Big ups to OC/RB Thomas Brown if he gets McFarland to sign here.
WR Jerry Jeudy – Deerfield Beach
What to watch for
: I've said it on multiple occasions and I'll say it again: Jeudy is the complete package at the receiver position. Not only does he have the speed, size, and hands, but his route running and body control are advanced for his age. This is the type of event that you just sit back and watch him dominate all week, as I expect for him to come out of this receiving a bump in the rankings and getting the highly-coveted 5th star.
Where he Canes stand
: Landing Jeudy would be monumental because he gives Miami an elite offensive weapon at the receiver position. The Canes are going head-to-head with Alabama and the smart money says that this will drag out all the way until signing day. Miami needs a strong season to land him.
CB Marco Wilson – American Heritage
What to watch for
: Wilson missed his junior season with an ACL injury, so this is a chance for him to display those elite cover skills against top-level talent. He is another candidate to receive a boost in the rankings after this event because he is back where he needs to be with his health.
Where the Canes stand
: Miami is battling with Florida here for Wilson. Don't sleep on USC either. His brother is obviously a Gator, but Marco's former coach Mike Rumph has been on him non-stop. The Canes have put themselves in good position.
(2018) CB Patrick Surtain II – American Heritage
What to watch for
: Surtain, Jr. is in elite company as one of only six 2018 prospects invited to The Opening this year. He is a big-bodied corner who is not afraid to use his body and get physical. I'm interested to see how he fares against some of the smaller, quicker receivers because if there is a knock on Surtain it's that he is not the fastest guy out there. Of course, that is not everything though.
Where the Canes stand
: It's tougher to get a read here than most of the other prospects on this list because Surtain, Jr.'s signing day is still more than a year and a half away. Right now, Miami and LSU are two of the top contenders for his services. The Canes are also on his teammates Marco Wilson and Tyson Campbell (2018)
WR Devonta Smith – Amite (La.)
What to watch for
: Smith is considered the top prospect in the state of Louisiana and is a dynamic athlete at wide receiver. He has game-breaking speed and can take the top off a defense, which is one of Miami's biggest needs. He should be exciting to watch in the 7-on-7 portion of the event.
Where the Canes stand
: Miami has very quietly been in the running for Smith and he just released his final four with his decision date coming on August 15th. Ron Dugans has been working hard on him and he will be visiting Coral Gables this month. Alabama is Miami's top competition. Would be a massive haul for Richt and staff.
OT Alex Leatherwood – Washington (Pensacola)
What to watch for
: I expect Leatherwood, much like Jeudy, to end up being one of the top performers of the week. He has long arms and a strong base with an athletic build. He has future top-10 pick written all over him.
Where the Canes stand
: Leatherwood is committed to Alabama, but is expected to visit Coral Gables in a couple of weeks. This is a long shot and he is one of those elite targets that the Canes must have a stellar season to have a realistic shot at landing.
**Note: OL Nick Brahms, OL Kai-Leon Herbert, and WR Trevon Grimes are also Miami targets, but it is highly unlikely that any of them choose the Canes.