TE commit Polendey set to enroll in January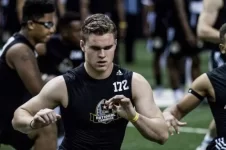 Miami welcomed a plethora of recruits for official visits two weekends ago as the team defeated Pittsburgh in convincing fashion. One of the recruits in attendance was Canes tight end commit Brian Polendey, out of Guyer High School in Denton, Texas.
Polendey, who took the trip with both of his parents, described the atmosphere of that weekend.
"It was my mom's first time in Florida and she was impressed with the whole set up down there."
"As soon as I got on the bus with other recruits, we were all talking and then when we pulled up to the stadium, that's when I realized where I was," Polendey said. "That was just awesome – seeing the renovations and upgrades they've made to the stadium."
With Polendey set to enroll at Miami in January, he felt like it was an important visit to get him acquainted with his surroundings.
"Most of the weekend consisted of seeing what it's like to be a Miami Hurricanes football player. I got to spend some good time with the coaches and some of the players," he said.
The Texas product is Miami's only current commitment at tight end, but the Canes are hot on the trail of IMG's Tre' McKitty. Polender explained that this is not a move that caught him by surprise.
"I think the way they see it is that they have several tight ends in Chris Herndon and David Njoku that will more than likely go to the NFL – if not this year, then next year," he said. "I know that a coach normally wants about five guys in the tight end room who are capable of playing. If those guys leave, that's where two guys fit in. The offense uses two tight ends, so it's not like a one-man show."
Polendey knows he will be asked to be a reliable blocker as a Hurricane – something he is very excited about. The Canes commit actually played more defensive end than tight end for his team this season out of necessity.
"When I play offense, it's actually a little bit more physical than defense because of the way I block. I was more of a pass rusher for my team and it was less about shooting gaps and being a big run stopper," Polendey said.
The 6-5, 225-pound tight end explained that his history of playing multiple positions dates back to when he began playing football.
"I started playing football in eighth grade and I was a little skinny kid who they put at offensive tackle. I actually played receiver too, which is a weird combination. Finally my sophomore year, I decided to play receiver and tight end," Polendey said.
So with enrollment about a month and a half away, does Polendey feels like he is mentally ready for the grind of college ball?
"Yeah, I think where I play high school football, there's no other place that can prepare you better than Dallas, Texas. The way my team is trained – we've been a state contender for the last five or six years and I've just been working for this my whole life."