Slimmed down Shaq Quarterman ready to roll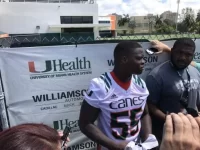 Sophomore linebacker Shaq Quarterman was a freshman all-American last season and became a leader on Miami's defense in a hurry. This offseason, Quarterman has made a big change to his body in a move he knows is necessary in today's era of spread offenses in college football.
Quarterman revealed today that he is currently sitting around 235 pounds after playing his entire freshman season at 250. He said that the number one thing it will help him with is "playing endurance".
"I knew a lot of the things that Coach Diaz wanted me to do, but fatigue is a real cancer when you're trying to play this game and play a lot of snaps so the fact that I lost all this weight and I'm still building this football endurance, I'm really excited about that," Quarterman said.
Defensive coordinator Manny Diaz says that Quarterman's weight loss is just an example of the mentality he carries throughout the locker room.
"That was a self-evaluation. I think he felt when he watched himself last year, at times I think he felt that he was sluggish. Those guys all understood what the season was like -- you look at October when we played 3 games in 12 days and they realized that probably shedding the high school mentality where size and weight mean everything, to understanding the college mentality where quickness, change of direction, speed, power is really what the games about," Diaz said.