Searels looking to build offensive line depth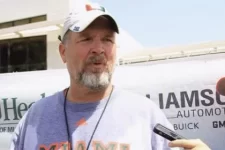 The success of the 2017 Miami Hurricanes offense will hinge not only on the newly-minted quarterback, but maybe even more on the play of the offensive line. Coach Stacy Searels was forced to experiment with different combinations last season due to injuries and lack of quality depth -- and naturally certain players were probably not in their most ideal position on the line.
Coming into this season, the hope inside the program is that players such as Kc McDermott and Trevor Darling will take the next step in what some consider their most optimal spot on the line. McDermott is playing at left tackle and Darling is at left guard.
Searels said today that there are currently six linemen in the first rotation, with Nick Linder and Tyler Gauthier battling it out at the center spot.
The right side of the line is projected to be manned by junior right tackle Tyree St. Louis, who showed he can be very good but needs more consistency. Freshman Navaughn Donaldson looks like he is locking down a first-team spot at right guard, as Coach Searels is taking notice. Donaldson has been at UM since January.
"He's starting to get it, he's starting to understand it. I really like him, but he's got to be more consistent. That's what I'm looking for right now," he said.
Miami's first unit offensive line could turn out to be a solid bunch, but the focus for Searels is to get the freshmen class of Kai-Leon Herbert, Corey Gaynor, Zalon'tae Hillery, and Zach Dykstra ready if the situation calls for it like last season.
"We're trying to develop the young guys. I told them a while ago, 'do you want me to treat you like a freshman or a Miami Hurricane?' If we had ten juniors and seniors and five freshmen coming in, maybe we could treat them a little differently, but we've got to get them ready in place where the expectations are higher. They've got to prepare better to come out to practice mentally ready to go," Searels explained on his philosophy with the freshmen players.
Searels also has high hopes for Herbert.
"Very talented young man. He's got to understand the difference of the college game and the speed of our defense which is really good. Once, he gets it, he's going to be a really good player."
The veteran lineman McDermott sees the young guys having the proper mentality when it comes to approaching their first camp.
"They're asking me questions constantly. They're in the meeting room constantly asking us questions -- they want to get better and I'm really happy about that," he said.