Sam Bruce holding strong with Miami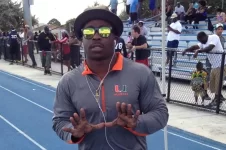 MIAMI GARDENS, Fla. -
St. Thomas Aquinas is normally always a favorite to win a state title, and this past season was no different. Fielding one of the most loaded squads in the history of the state, the Raiders were able to come home with the 7A title. Explosive playmaker Sam Bruce was one of the main reasons for their success.
"We had a little hiccup in Don Bosco, but we came back and finished the season strong. We told everybody we would win the state championship, and that's what we did," said Bruce.
The 2016 Miami commit is ready to show that he can carry the load for a championship-caliber team.
"I feel like next year will be a great opportunity to get a ring that I could say I got by myself. I've had help from Jordan Scarlett, Brandon Boyce and Rashard Causey the last three years so now it's my time."
Despite the recent turmoil in Coral Gables, Bruce has held strong on his pledge to the Canes.
"It's home. The campus isn't even an hour away from me. If I go anywhere else, it's either a plane flight away or a crazy drive. I'm here."
Bruce paid close attention to the freshman year of quarterback Brad Kaaya.
"He's an exceptional player. I'm looking forward to watching him build up as a player and quarterback over the next couple years. I'm excited to play with him."
One of Bruce's closest friends is Canes commitment Jordan Scarlett. There is a lot of talk though, that the elite running back will not wind up in Miami.
"Hopefully we both end up at Miami," said Bruce.