Rousseau says he is "definitely" enrolling early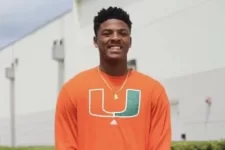 Champagnat Catholic and Miami defensive end commit Gregory Rousseau has had a breakout season at his new primary position. He updated Canesinsight tonight on the progress of his season and move to the front seven.
"I love it. I like getting better at things that I'm not used to because it's a challenge. I'm trying to get better every day and learn new moves and stuff," Rousseau said. "I like being closer to the line of scrimmage because you have a better chance to make plays."
Rousseau is playing this season around 220 pounds, which is a steady increase from when he was playing in the 190s during his junior year.
"It definitely has helped on running plays when I have to stand my ground in front of an offensive lineman — it makes it easier," Rousseau said about his weight gain.
"I think I've really gotten a lot better. I've been learning a lot of stuff and everything comes with experience. The more games you play at this position, the better you will be period."
On top of Rousseau's 10 sacks, 37 tackles, two forced fumbles, and 3 touchdowns, arguably one of the most impressive stat is his 8 deflected passes at the line of scrimmage. His 6-6 frame and long wingspan certainly play a part in his knack for batting he ball down at the line of scrimmage, but it is also something he works on.
"I practice that a lot — just getting my hands up if I'm not going to get a sack because you can really make a big play off that if you tip the ball and it causes an interception or something," Rousseau said.
"It's really awesome to see everything coming together. I'm happy for the group that's there now and I see that their hard work is paying off. The defensive line is playing great with Coach Kool and it's all coming together," he said.
Rousseau expanded on his relationship with his future position coach, Craig Kuligowski.
"He just tells me good luck and that he can't wait for me to get there. We're getting to know each other a lot better through texts and calls — and he came to one of my games.
Rousseau says that he is "definitely" enrolling early at Miami and has everything in order to be on campus in January — a major plus for him since he will be focusing on adding even more weight.
[TWEET]920009751777431553[/TWEET]