Richt pleased with offense after rain-soaked practice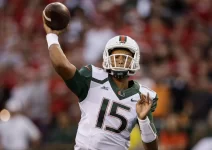 Mark Richt called today's morning practice "short and sweet" and said he didn't want to tire players out with a second practice coming this afternoon. The second scrimmage will also be held tomorrow.
Practice was interrupted momentarily though, for a "lightning delay", which Richt poked fun at.
"The closest strike was about 28 miles away, but the horn did go off, because we predict lightning around here – we don't detect it," Richt said. "If we had waited probably another 5 minutes, I would have shut it down because I just didn't want to wait all day. Then the nearest strike was about 63 miles away, so we though we had a great chance with the horn to go off and let us go back out again.
With Miami nearing closer and closer to the announcement of a $30 million dollar indoor practice facility, Richt said that it "woulda been nice" to have the facility today.
He added that the team treated it like a game delay and was inside for about 20 minutes before coming back out to Greentree Practice Field.
The offense had a strong day, according to Richt.
"It turned out to be a good day, offensively especially," Richt said. "Offense had a big day today – had the best day of the camp as far as the point system we have."
"We threw the ball and placed it better and guys made catches for the most part," he said. "Last time we got together we had short-yardage, which is 3rd-and-two and 3rd-and-one and that means the offense should win that day and we got beat. They stoned us pretty much in short yardage."
"We called the same plays, but we just placed the ball better and guys made plays."