Receivers rundown with Coach Dugans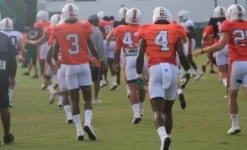 Whoever Miami's quarterback is in 2017 will have plenty of weapons at his disposal at the receiver position. Some of the early camp excitement has revolved around the talented group, which has many options to mix-and-match.
Sophomore Ahmmon Richards was the star of the show for the Hurricanes last season with over 900 yards in his freshman season. He is expected to be "the man" this year, but Dugans explained how important it is for Richards to stay on point as more attention comes his way.
"Ahmmon is learning how to be a pro. I told him all offseason, 'hey the honeymoon is over, you're not the unknown guy anymore and now you have a target on your back'. So he's had a really good offseason," wide receivers coach Ron Dugans said. "He's getting after it, man. I'm excited to see him go out and work, compete, and push guys."
Note: Richards sat out of practice today after falling on his head while making a reception, but Richt said it was a precautionary decision and that he does not have a concussion.
Freshmen Jeff Thomas and Mike Harley have turned heads early on as expected -- sources told Canesinsight that Harley has scored multiple times on deep balls in the early going of camp.
"The thing that Jeff has to work on is just getting the assignments down. He's getting a feel of what he's doing, but it's just the details of the assignment," Dugans said. "He's learning from his mistakes, so I think he'll be a really good player for us."
"Mike is about the same (as Thomas). Both of those guys have shown flashes, but the thing about those two is that they've shown they want to learn, they want to get better, they work hard, they compete, they try to finish. Harley has done a really good job for us, it's just about being consistent. He had a couple really good catches today in pass skeleton," Dugans added.
"Jeff Thomas is quick and fast. Mike Harley gets separation, but they're still learning the instincts and the installs right now," corner Malek Young said on the young speedsters.
Returning from ACL surgery which kept him out last season, big-bodied receiver Lawrence Cager is showing signs up his springiness and agility that made him a great prospect at his size. Sources said he had a nice touchdown reception on earlier this week in 11-on-11 work.
"I feel great, my knee feels great. I feel like I can go back to dancing like I used to. I'm making the same cuts that I used to and maybe I'm a little faster -- just feeling great," Cager said on his health.
A wildcard in the battle for time in the rotation is another freshman, Evidence Njoku, whose physical stature and leaping ability could be enough to utilize him in red zone situations as early as this season.
"Early on, I'm like 'he's really raw' and he came out today and grew up. I look for some good things from him. The quarterback is throwing the ball and you think the ball is going out of bounds, but his long arms come from out of nowhere to catch it. I like the upside on the kid -- we just have to coach him and teach him and get him the knowledge of the game and bring him along slowly," Dugans said.
"He's David (Njoku) 2.0. It's David Njoku junior. A little bit taller, but they're the same person. Great hands, great athletic ability," Lawrence Cager said in comparing the Njoku brothers.
Yet another freshman in Deejay Dallas is someone who has a real chance to see time this season. Both Mark Richt and Ron Dugans have had positive things to say about the early enrollee and his improvement.
"Deejay Dallas has gotten better since the spring. He's progressed, he's a better route runner now. He runs with really good pad level and he's understanding the game now. I got him at a few different positions, which goes back to getting them to understand concepts, now he can learn whether it's the slot, wide, 3-by-1, 2-by-1, or the F. He's made some contested catches for us in some drills."
And last but not least, sophomore Dionte Mullins is vying for an opportunity to fill the role as a receiver who can make difficult catches all over the field and is not afraid to go across the middle.
"Mullins is doing better. He's gotten a little bit more consistent," Dugans said. "Dionte has caught the ball well and become a better route runner. I think he's lost a little weight and he's moving better out there. He cares more about blocking on the perimeter."