Q&A with Coconut Creek HC Gerald Cox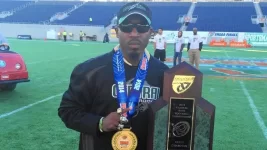 The Coconut Creek Cougars have experienced a change at the top this spring. Former Head Coach Kareem Reid took a coaching job in Atlanta back in February, which made way for Gerald Cox. Cox previously worked at Central as the defensive backs coach and is looking to bring that winning attitude to the Cougars, who have a plethora of young talent on their roster.
Coconut Creek plays in one of the competitive districts in the nation (16-5A) with American Heritage, Cardinal Gibbons, and Hallandale but have been a program on the rise over the past few years. The Cougars boasted a team with two Army All-Americans last season with cornerbacks Trayvon Mullen (Clemson) and Malek Young (Miami). Coach Cox is looking to build on that success and lead the Cougars to the playoffs this season.
I had a chance to chat with the new leader at Coconut Creek about a number of things including the talent at the program, as well as his thoughts on the future of the Miami Hurricanes.
Q: You being a guy who has dealt with Dade county kids a majority of your coaching career, and now working with Broward kids, I'm just curious to know how the two styles match up. How similar or different are the kids from each county?
Cox:
At the end of the day, football is football. The bigger difference is Dade has stereotypically the more physically out of the two. Other than that, both run fast and have the ability to be physical. The coaching plays into that too because some like to coach more physicality, and some don't. That's pretty much the only difference.
Q: You've been enough lucky to have worked under a couple of championship-winning coaches in Telly Lockette and Roland Smith. What have you learned from them and how has the adjustment been from being an assistant to running the whole show now?
Cox:
As a coach, you can never stop learning. I'm always trying to find new things and trying to pick everybody's brain. I've been blessed to have great coaches to learn under at both Central and Carol City, and in Tallahassee at Chiles. I've been doing the same thing for Central for the last seven years as far as offseason stuff and setting up different things like uniforms and gear. I've been doing that at Central, so it hasn't been a huge adjustment for me. The only difference is that I'm wearing garnet and gold now.
Q: How tough has it been trying to instill the winning culture that you were a part of at Central to a program that is looking to crack the playoffs?
Cox:
That's the key thing. They were one position out of the playoff last year and me coming from Central knowing the work we put in to be successful is what I'm trying to get them to see. It takes work. There's going to be some long days where they want to quit, but that's football. You are going to have to face adversity and beat adversity. We can't make excuses and just have to go and get the job done. We are going to play physical. That's the brand of football that I believe is going to be successful. We have enough skill guys, but we are going to win in the trenches. I've been preaching discipline and finishing.
Q: Do you think your background as a coach who has won multiple state titles makes it easier for these kids at Coconut Creek to buy in to what you are selling them?
Cox:
I think that it has. Me and Coach Reid have a lot of similarities in certain things that we were doing, so that has eased the transition. Probably the only difference is that I've been in Dade and he was in Broward. I'm an open guy and I tell the players that my office is open everyday until 10 o'clock. My wife puts a little knock on that door after 10 (laughs).
Q: Let's talk about some of the talent you have on the roster for the next few years.
Cox:
Right now we have a two-headed monster at quarterback with Breon Jackson (2017) and Karinzo Ward (2017). Both of them are very athletic and are speedsters. They can throw it well and are knowledgeable as far as the scheme and opposing defenses. We're looking at having a good battle heading into the summer – we had a great battle over spring and that will continue heading into the season.
At running back, we have a 2018 kid named Larnell McConn who is going to shock a lot of people. I told this to a recruiter early in the spring, but he reminds me of a young Joseph Yearby or Dalvin Cook. I look at his body and how he runs and he's a very physical and hard runner. He doesn't shy away from contact, but he will pull away from you. He's going to be a stud for us this year on the offensive side along with Akai Rainford (2017) who is the lone returning guy from last year's offensive side of the ball. He's a very rangy kid, about 6-2, 175 and can run. He's shifty and can make guys miss after he catches it. Ladarius Burrows (2018 WR) is coming up from J.V. and he's 6-3 and he can flat-out play. He was in the starting lineup for the spring game with Stanley Garner (2018) who everybody in America loves because of his length. He is an outstanding basketball player and student, as well as a great cornerback so he will be going both ways. Marquis Williams (2018) is also in that group so that core is very solid. Marquis and Stanley will be predominantly defensive guys, but they will be looking to make some plays with the ball in their hands.
The OL is young so they are going to grow and get more physical and stronger. One of the things I learned at Central is that you need to be strong up front and that will be our focus over the summer.
Defensively, everybody is excited about our secondary. I kid you not when I say that I think we have the best secondary in the nation. That's saying a lot, but you look at what they do on film and who they've covered, I don't see a lot of points being scored on them. I might knock on wood with that, but they are outstanding kids from Marquis Williams (2018) locking down one side to Stanley Garner (2018) on the other side. We have Tiawan Mullen (2019) who is Trayvon Mullen's younger brother. He comes in and he's a force. Our captain back there is Miguel Edwards (2018) and he's our quarterback of the defense. He had three interceptions in the spring game.
That right there is a great start to what will be a good defense, but we have some guys up front like Isaiah Friday (2017) who has a motor that doesn't stop. We have Treveon Walker (2017) on the other side who is a 6-4 kid and uses his hands very well. I've been telling scouts to get on him early because by the fourth game he will be tough to recruit.
Q: I know you did not coach him last year, but have you had a chance to be around Miami signee Malek Young at all? If you have, then what type of player are the Canes getting?
Cox:
Miami is getting a kid that's humble and is a really hard worker. He's already asked me when summer workouts start because he wants to get in there with us before he gets fully into it at UM. He's a kid who loves football and wants to get things going. I've had a chance to look at some of last year's film and he made plays in every game that I watched. UM is getting a kid who is ready to work and I know the guys down there will do a good job of getting him acclimated. Coach Richt will be a guy who gets the most out of the talent he has with Malek and the other guys down there.
Q: It seems like Richt and his staff are trying to bring an SEC mentality to Miami. Would you agree with that assessment?
Cox:
The type of program that he ran at Georgia was first class. He brought a lot of South Florida kids up there and that is the breeding ground for the SEC. We are playing the same type of ball and kids are competing at the same type of level. It's possible that you get beat on any day and he's bringing that mentality to a group who is already used to that from high school. I think they kind of got away from that competitiveness for a little while, but I think he will bring that back and they will compete in games that they should have been in the last few years.
Q: What are your thoughts on the hire of Mike Rumph as cornerbacks coach and have you had the chance to speak with him at all?
Cox:
I think it was important for them to bring in a guy locally that everybody can relate to. He also has some ties to UM so that was key for them. Personally, I've only had the chance to talk to him once in passing at a coaching convention, but I know he's a guy like me who harps on the fundamentals of the DB position such as hands and feet. He's a guy who will tighten up the focus at UM and bring the swagger back to that position. He is a local guy that everybody knew from being at American Heritage and he knows what a talent is. He knows what schools produce and what kids have been on the radar for a few years, whether it's in optimist or in high school.
[HUDL]athlete/4716488/highlights/306850482[/HUDL]
[HUDL]athlete/5112686/highlights/328271376[/HUDL]
[HUDL]athlete/4127631/highlights/293202382[/HUDL]
[HUDL]athlete/3901887/highlights/289545377[/HUDL]
[HUDL]athlete/6793063/highlights/313127402[/HUDL]