Pinckney: I'm ready to go home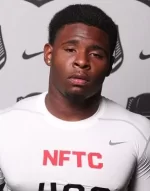 Although Mike Pinckney's high school career ended last night as his team fell to Booker T. Washington in the 4A state championship, there was a special visitor in the stands for him. New Miami Head Coach Mark Richt was in attendance sitting alongside Pinckney's fellow LB commit, Shaq Quarterman.
"It was a great honor to see him (Richt) in the stands. He shot me a message saying he was coming to the game," said Pinckney.
The three-star prospect knows this can be a good recruiting finish for the Canes, but is not worried about focusing on certain recruits.
"I don't have specific names, I just want guys who want to be Hurricanes and play like one. We can be very effective coming up," he said.
Pinckney is hopeful that former Miami commit Zach McCloud rejoins the recruiting class and signs seem to be pointing in that direction. McCloud will visit Miami the same weekend as Pinckney (December 11th).
"I would hope he commits back. He's a great player and a great friend and I would love to have him."
As far as what he's looking forward to on his visit, the Jacksonville Raines star is ready to get back to his roots. Pinckney was born in Carol City and considers Miami his home.
"I just want to get around the team to get some chemistry with those guys. I'm ready to just go home."
Pinckney has signed his grant in-aid agreement and is expected to enroll at Miami in January.