OL commit Dykstra's strength coach talks with CIS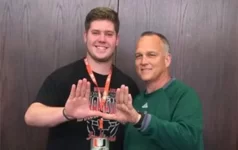 The Miami Hurricanes 'offensive line play was up-and-down this season, with the unit failing to muster much of anything during the team's four-game losing streak in October. They rallied well to finish the season strong, but it is certainly a group that will have openings and the opportunity for new faces to make an impact.
The offensive and defensive lines are also traditionally a difficult spot for true freshmen to master early due to the physical nature of the position. This makes enrolling early all that more important in the trenches. Navaughn Donaldson, Zach Dykstra, and Zalon'tae Hillery will all be in Coral Gables for their first semester in January.
CanesInSight had the chance to speak with Spirit Lake, Iowa product Zach Dykstra's strength coach Levi Markwardt, who is manager of Athletic Republic gym in Spirit Lake, Iowa. We discussed the type of athlete the Canes are getting in Dykstra, how much room he has to grow, and more.
Markwardt said that Dykstra began working with him about two years ago at this time following football season.
"He was playing basketball. He would come in extra and train with me just because he didn't feel like his needs were being met at the time. He had lofty goals of playing division-1 football and he needed to get bigger and stronger and fill out that frame," Markwardt explained.
Spirit Lake high school offered Markwardt a job in May 2016, which gave Dykstra the opportunity to receive the training he wanted in-and-out of school.
Markwardt describes his philosophy as "more unconventional than your standard strength coach", but added that "it doesn't mean they're wrong or I'm right -- it's just different".
"My background as an athlete is as a wrestler, so I try to look at a lot of the stuff we're doing as building a foundation for these kids," he said. "Those guys who want to play at the next level, they will get more specialized, but we are working on a lot of flexibility in the shoulders, hips and lower back."
Markwardt said that his training regimen with Dykstra includes the traditional front squatting and dead lifting, but he also focuses on a lot of work with kettle bells, "to make sure they can move the way the body is supposed to be moving."
"That stuff is fun. The kids love the challenge and it's goofy, but it's very difficult," Markwardt said. "To have somebody at his size balance themselves on one kettle and to lift another one while he's upside down, that's just something difficult he does and he makes it look easy."
Miami's 6-5, 300-pound commit has posted some videos on social media of a couple eye-opening physical showings. Although they don't tell the full story of Dykstra as a football player, Markwardt explained just how it translates to the field.
[INSTAGRAM]BOcvmYMDvKK[/INSTAGRAM]
[INSTAGRAM]BNHbpZzDaSz[/INSTAGRAM]
"I read some of the comments on there and people are asking how is this going to relate to football -- well, you've got to have some pretty amazing core stability to hold yourself like that," he added. "A lot of pass blocking is done without full extension at the the elbow and being able to punch a defensive linemen and keep that distance. Of course, a lot of that is footwork, but he's got to have the shoulder stability and elbow stability to lock out defenders and keep their distance."
"It may not be a quote on quote 'football exercise', it's a lot of fun and very challenging. It produces a lot of confidence."
Dykstra also seems to check all the boxes from the mental standpoint.
"First off, he's got a great genetic base. His family is all very athletic and when you have somebody with that base, it's a lot more fun to work with him. If you can get that athlete to realize what they've got in their future, it makes it easier for them to pursue it," Markwardt said.
"From an early age, Zach has been getting up at 6 AM before school, before basketball, in order to achieve his goals. This is a kid who is willing to do the extra work and go the extra mile."
It's not very often you see an Iowa-bred offensive lineman leave the region for the next level, but Markwardt believes that it is the perfect choice for Dykstra heading to Miami.
"I think being down there will improve everything for him. He will be able to focus on one sport, he will be pushed by better athletes, and he'll be able to adapt because he will do the extra things when he might not be the best," he said.
Another positive with Dykstra as a prospect is that it appears like he is nowhere near his physical ceiling, according to Markwardt.
"He's going to get some really good coaching both on the field and in the weight room and I can't wait to see him develop."
"He's a long way from his potential. When his body matures and nature takes its course on him, he's going to be a scary individual on the football field," he said. "That's when he will exceed those squat numbers and bench numbers. Like any male athlete, he's concerned about where he bench press is at, but that's normal."
Dykstra leaves for Miami on Friday to begin his move for January enrollment.
Markwardt said that he has had Dykstra at up to 18 MPH on the treadmill for sprints, as well as a workout finisher where he walks a quarter-mile dragging 400 pounds.