OL Commit Dykstra plans to EE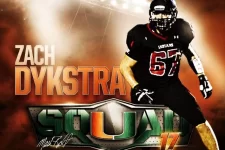 Spirit Lake High School (Iowa) 2017 offensive lineman Zach Dykstra is going a bit against the grain. Rather than decide to stay close to home and be a Hawkeye or Cyclone, Dykstra announced last month that he will be traveling south to become a Hurricane.
"It was always Iowa or Iowa State. My brother was going to play basketball at Iowa State, but he ended up changing his mind. So we were big fans during that period. I still have a bunch of Iowa State stuff," said Dykstra. "Iowa has been good the past few years too so I've kind of cheered for both."
"I felt some pressure from family, friends, and people in the community to go to Iowa or Iowa State, but it's my decision and I felt that Miami is where I need to be."
Miami's coaching staff was a major deciding factor for the early commitment, according to the 6-6, 290-pound lineman.
"I really liked the coaches. Coach Richt and Coach Searels are really good guys and the atmosphere made me want to go there," Dykstra said. "I liked the way he (Searels) coached a lot. He was getting in some people's faces. He got them fired up and they would do well the next play. I think that's going to fit me well."
Richt's personality on-and-off the field is something that caught Dykstra's attention as well.
"He is pretty laid back when he's not on the field, but he gets fired up during the practices. He does it the right way and I like what he stands for as a person, so that really impressed me about him."
Despite the difference in ambiance that Coral Gables will present for Dykstra, he feels like he is prepared to make the move. He will be an early enrollee for the 2017 class and plans on arriving in Miami in January.
"It's The U. I like the culture a lot. It's differently obviously, but I'm ready for it," Dykstra said. "I'm very excited. It can help me get better sooner and get adjusted to the tempo and plays, as well as the college atmosphere."
It remains to be seen which spot Dykstra fits in at the next level, but he has the versatility to play Tackle or Guard.
"Hopefully I'll stay at Tackle. They said they could see me at either spot. I like to play aggressive and keep the motor running every day."
Highlights:
Zach Dykstra Junior Highlights 2015 - Zach Dykstra highlights - Hudl