OC Thomas Brown likes skill position depth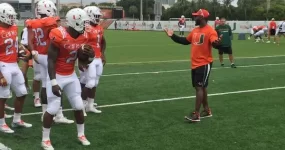 While discussing the importance have having a quarterback who is in such command of the offense, Canes offensive coordinator Thomas Brown also had a promising outlook for the playmakers on Miami's offense.
The former UGA running back and position coach for the Canes delved into his stable of backs, which he believes has the depth even without Trayone Gray.
Mark Walton, Joseph Yearby, Gus Edwards, and even freshman Travis Homer could all take snaps for the Canes this season and Brown seems to comfortable with any of them in the game.
"I feel really good about four of the guys we're going to have as far as carrying the football. We'll see once the game starts – practice is definitely different than the games.
On the outside, Stacy Coley (who could still be facing suspension but is not likely to be dismissed) gives the Hurricanes a dynamic presence. Braxton Berrios is the healthiest of his career and Malcolm Lewis has emerged in his fifth season in Coral Gables. David Njoku and Chris Herndon offer Richt multiple weapons at the tight end position. Brown weighed in on the skill position players.
"Our depth at tight end and how versatile those guys can be can help us out from an offensive standpoint. At receiver, we have some guys who can help us out and make some plays one-on-one and be explosive down the field and hopefully create some big plays for us this fall," he said.
Brown noted the importance of having running backs that he believes can play on all three downs. He said that they teach their backs to "not only run the ball effectively on first and second down, but also catch the ball effectively out of the backfield on third down or even protect the quarterback".
Brown described fullback Marquez Williams' role in the offense saying, "his main job is going to be moving linebackers – be physical and strike guys, but also be able to cover them up."
The young tight ends – Mike Irvin II and Jovan Haskins have shown that they physically belong at Miami. Brown is working on getting them mentally prepared for the games.
"Those guys are spinning – they're still trying to find out which way is up right now. But I think those guys have shown some flashes of having some great talent, great ability, but it's gotta be more consistent and make sure those guys dive into their playbooks and not just do the bare minimum, but master the offense," Brown explained.