Notes from Richt following Saturday's practice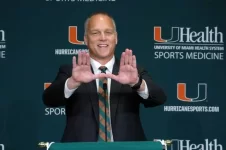 **Mark Richt said that the team's focus today was the 1-minute offense and 1-minute defense. He called it "more of a teaching drill than a competitive one".
The two scenarios were the following, according to Richt.
1) If it was right before the half and we needed a field goal attempt.
2) The offense needed to score a touchdown to win at the end of the game.
The practice was helmets only today and Richt gave them the 2nd practice of yesterday off. There is no practice tomorrow.
"Obviously it is smoking hot out here. They've been working well," said Richt. "You could see they were fatigued. And you want them to fight through fatigue, but you want them to be careful with soft tissue injuries and stuff like that."
**Richt said that he has around 100 plays installed right now and he normally takes about 50 into a game with him.
Freshman DL Tyreic Martin has what Richt called a "non-surgical knee issue" that will keep him out a little bit.
Richt added that none of the injuries sustained in fall camp have been "catastrophic" or "season-ending".
**Richt commented on Dionte Mullins' situation as he awaits word on his eligibility. Mullins was at practice this morning.
"We're still very encouraged about his arrival," said Richt. "We think that's going to happen."
**In the wake of Maurice Smith's transfer from Alabama to Georgia and Miami, Richt spoke on needing waivers to be released to certain schools. Miami had been a rumored landing spot for Smith, but of course Richt did not comment on that possibility, as Smith was finally granted his release to go to UGA.
"I've unconditionally released every guy whose ever wanted to leave," said Richt. "Because I think life's too short."
He pointed out that during his time at Georgia, he had players transfer to Alabama and Auburn.
**Richt was asked if the possibility of adding a transfer was still on the table and he responded, "If something popped up, possibly."
"I'd say don't hold your breath on that, but don't be shocked if it happened," he added.