Mike Harley in weekly contact with Miami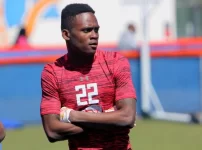 Miami is searching for wide receivers in the 2017 class. The Hurricanes currently have Evidence Njoku and Kevaughn Dingle on board at the position and ATH Deejay Dallas could potentially play the slot as well.
One local target who has been on the radar of Miami fans for over a year now is St. Thomas Aquinas' playmaking speedster Mike Harley – who is capable of making a highlight any time he touches the football.
One of the most respected players in south Florida, Harley showed on Friday night why he is thought of in high regard by his peers. His STA teammate and Ohio State commit Trevon Grimes is out for the season with a torn ACL that he sustained against Bishop Gorman, so Harley honored him by donning the
#16
that Grimes normally takes the field in.
Harley said he went to visit Grimes the day before the game and his teammate was feeling "depressed" and "missing the game".
"He's been my brother since ninth grade," Harley said. "I dedicated that game to him to show him we have his back and he's not left out."
"When he saw it, he hugged me and was crying and told me thank you."
Talking to prospects around south Florida, Harley and Trajan Bandy are two of the names you hear about most.
"Me and Trajan are just humble beasts who work hard. We don't trash talk. When it's time to compete, we do that – and a lot of people respect that," he said.
A Mountaineers commit, Harley is not surprised by West Virginia's hot start this season.
"When I went up there, I said 'coach what are y'all doing with all this talent?' because they went like 6-5 or 7-6 last year. He was telling me they had young talent and now they're 6-0 this season," he said.
He cracked a joke that was funny to him where he asked me what I had eaten that morning and I told him chicken. He said "you are what you eat," and while I was running routes, he told me I run like a chicken," Harley said.
Holgorsen sold Harley on the chance to be the next Tavon Austin at WVU and he has stated that his commitment is solid, but the electrifying wide receiver has been taking visits and will continue to do so.
Harley took an official visit to Utah last month, has been to a couple Miami games this season, and still plans on seeing West Virginia, Maryland, and Louisville. Although the Canes have not offered Harley yet, they are keeping close tabs on his progress.
Miami has been in constant contact with Harley – the Aquinas star appreciates Ron Dugans' recruiting approach, which differs from other coaches' style. Harley said that him and Miami's receivers coach talk every week.
"He's a family man. I've never had a coach check up on my family the way he does – it's not always football-related when we talk. It's been a big step in my recruitment," Harley said.
If Miami offered, would Harley take a serious look?
"Yes, I would definitely. It's home – I would be closer to my family. There's a great tradition and Mark Richt is turning it back around," he said without hesitation.
Harley says he is in contact with Miami commits Deejay Dallas and D.J. Johnson, and says that Canes commit Jon Ford is his childhood friend from playing youth football with him.