Miami's 10 most crucial uncommitted targets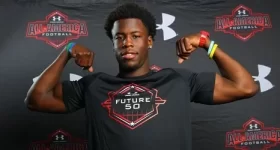 Before reading this list, I want to explain how I made these rankings. First, these are not based on just pure talent level. It is a combination of talent, position of need, how, how badly Miami wants the prospect, where the Canes stands with the prospect, and what landing their commitment would mean to the class in terms of the area they're from and other surrounding factors.
1) Jerry Jeudy – Wide Receiver – Deerfield Beach High School
Scouting report
: Jeudy is a 6-1, 180-pound receiver who is the total package at the position in terms of speed, size, and ball skills. His route running ability is advanced for his age and is a major weapon after the catch.
What he would mean to the class
: Landing Jeudy would give Mark Richt what he covets at the receiver position, which is a playmaker with speed. It would also give him an elite talent from South Florida. The Canes have missed out on too many of those recently.
Where Miami stands
: This is primarily a Miami-Alabama battle right now with Florida State heavily involved as well. It will come down to the wire, but the Canes like where they stand right now.
[HUDL]athlete/2913673/highlights/177979380[/HUDL]
2) Anthony McFarland, Jr. – RB – DeMatha Catholic (Maryland)
Scouting report
: McFarland is a 5-8, 185-pound all-purpose back who can be lined up all over the field as an offensive weapon. He has the speed to break big runs, but is also tough between the tackles and can catch passes out of the backfield or out wide.
What he would mean to the class
: McFarland is as high on the list as he is because he's a national recruit out of a powerhouse program and landing him would be a statement from Richt's staff, in particular Thomas Brown who is leading his recruitment. Landing him would give Miami more of that speed offensively that they are looking for.
Where Miami stands
: The Canes are in great shape here. He visited back in March and will be taking an official visit at some point too. The hometown Maryland Terps and Alabama are two schools high on his list as well. Thomas Brown has had a relationship with him since his days at Georgia.
[HUDL]athlete/2906544/highlights/192465375[/HUDL]
3) Daniel Wright – Safety – St. Thomas Aquinas
Scouting report
: Wright recently transferred from Cardinal Gibbons to St. Thomas Aquinas. The younger brother of former Florida Gator Major Wright, Daniel is a 6-2, 175-pound defensive back who has the versatility to play anywhere in the secondary. Wright has the ability to diagnose plays quickly and has the quick twitch burst to get to the ball in an instant. Violent striker who excels against the run and turns into an offensive player with the ball in his hands.
What he would mean to the class
: Wright is the exact type of talent that Manny Diaz looks for in terms of versatility. He can play in the box, as a pure free safety, and even as a bigger cornerback if need be. Obviously the fact that he is from South Florida makes him an even bigger priority. He would make an immediate impact on special teams as well.
Where Miami stands
: Not many are giving the Canes a chance here, but he made it clear to the coaches on an unofficial visit back in April that Miami is legitimately in the running. I expect that Canes to get an official visit. Florida State appears to hold a lead here but Alabama and LSU are pushing hard too.
[HUDL]athlete/3068785/highlights/311618377[/HUDL]
4) D.J. Johnson – Defensive end – Luther Burbank (California)
Scouting report
: Johnson is a 6-5, 240-pound edge rusher who is explosive off the edge. The first play in his highlight tape shows you the type of athletic ability he has for his size. Johnson also appears to have the type of frame that will allow him to add weight without losing much.
What he would mean to the class
: Johnson is an elite target with offers from all over the country. This kid working with Miami defensive line coach Craig Kuligowski could be scary once he refines his technique. It's always a major coup when Miami is able to land a prospect from Cali that USC and UCLA want.
Where Miami stands
: The Canes lead, as Johnson made clear in the interview I posted with him a few weeks ago. Miami needs to get him on campus to seal the deal, but there's a lot of confidence here on Miami's end.
[HUDL]athlete/4023082/highlights/308578520[/HUDL]
5) Trajan Bandy – Cornerback – Christopher Columbus
Scouting report
: Bandy (5-9, 180) is a tenacious cornerback who projects in the nickel spot at the next level. He has a tremendous nose for the football and is one of the best pure cover corners in the country. Bandy's instincts and fearlessness on the field truly separate him on the field. He plays much bigger than his size. Has a lot of JaQuan Johnson in him in terms of leadership qualities.
What he would mean to the class
: Bandy's spot on this list is not only based on his talent level, but his significance in terms of the clout he carries in South Florida with other kids. Landing Bandy would be a tremendous get in itself, but he would essentially lock up teammate Chris Henderson, Jr, who is being courted by the SEC and Michigan. Every single prospect I've spoken to in South Florida has respect for Bandy, as he has been a star since the optimist level.
Where Miami stands
: Bandy's story has been one of the most talked about in this recruiting cycle. Currently committed to Oklahoma, Bandy was offered by the Canes two weeks ago after the staff completed their evaluation of him. The staff wholeheartedly wants him and he was on campus last week with CJ Henderson. It will take time, but I believe that the Canes will eventually flip him. Miami was his favorite for a long time before his recruiting process even started, so the staff is really going to have to tap into that.
[HUDL]athlete/3946990/highlights/189179375[/HUDL]
6) Alex Leatherwood – Offensive Tackle – Washington High School (Pensacola)
Scouting report
: Leatherwood is a 6-6, 315-pound tackle with strength, athleticism, and long arms. He carries the weight very well and will become an absolute monster in the college weight room. He does a good job of staying low and driving defenders off the ball.
What he would mean to the class
: If this list was based purely on talent and need, Leatherwood would be right at the top. He's a 5-star prospect at one of Miami's biggest positions of need. He would be one of the top recruits to sign with Miami in a long time, but it remains a long shot right now.
Where Miami stands
: He is an Alabama commitment and is currently there for camp. There is a lot of talk that his pledge is not the strongest, but I get the feeling that his visit there could quiet some of those concerns. He will be down in Miami for camp with close friend and fellow Canes target Nick Brahms in a couple weeks, so look for them to make a move at that point. A long shot, but one to watch especially if Miami has a successful season.
[HUDL]athlete/3928788/highlights/331448378[/HUDL]
7) Kadeem Telfort – Offensive lineman – Booker T. Washington
Scouting report
: Telfort is a 6-7, 300-pound lineman who might eventually slide inside to play guard in college. He has freakish length and could become elite if developed correctly. Not an elite athlete at his position, but if he learns to use his hands correctly and improves his footwork he could become a star. Looks a lot better in person than in his film.
What he would mean to the class
: First of all, Miami needs offensive linemen badly. Secondly, this would be about Miami defending their home turf. You never want to see a Booker T. kid (formerly Norland) head elsewhere, especially Gainesville.
Where Miami stands: Telfort is a former Miami commitment who flipped to the Gators last summer and is currently solid to them. That is not stopping the Canes from continuing to recruit him, though. Miami will not give up here and we will see where he stands after the season depending on the success of both teams.
[HUDL]athlete/3931406/highlights/284713386[/HUDL]
8) Marco Wilson – Cornerback – American Heritage
Scouting report
: Wilson is a 6-foot, 175-pound corner with tremendous cover skills and ball skills. The son of former Hurricane Chad Wilson and brother of current Gator Quincy Wilson sat out his junior season with a knee injury, but is back healthy and has been making noise in the camp circuit all spring. Wilson has very good instincts, smooth hips, and great feet. He shows quick twitch ability and closes gaps in an instant.
What he would mean to the class
: It almost doesn't need to be mentioned that Miami botched his brother's recruitment, but that was obviously under the previous staff. Miami hopes that landing a commitment from him would open up the floodgates at American Heritage in the coming years and he plays at a position of major need for the Canes.
Where Miami stands
: His former high school head coach Mike Rumph is recruiting him and that gives the Canes a good chance here. He is a major priority for Miami and the staff likes where they stand with him right now. UF is the biggest competitor here.
[HUDL]athlete/4267155/highlights/218615377[/HUDL]
9) Amari Carter – Safety – Palm Beach Gardens
Scouting report
: Carter is not necessarily a highly rated prospect (3-star), but he passes the eye test and his highlights jump out at you. He can get sideline-to-sideline in a hurry, has tremendous range as a free safety, and is a thumper.
What he would mean to the class
: A favorite of Miami's safeties coach Ephraim Banda, Carter would give the Canes another versatile athlete in the defensive backfield who can run and it. Much like Daniel Wright, Carter is a local kid who Manny Diaz could move around.
Where Miami stands
: Notre Dame is making on him hard and he is listening, but I think he ultimately winds up a Hurricane. His family wants him in Coral Gables and Miami has been on him for a while.
[HUDL]athlete/3434041/highlights/311625380[/HUDL]
10) Latavious Brini – Cornerback – Mater Academy
Scouting report
: Brini's sheer size and length are the first thing that stick out, especially when you see him in person. At 6-2, 195-pounds, he fits the bill of the big corners that coaches covet in today's football. He is raw and doesn't necessarily play as physical as you would like for his size at this point, but that should be brought out of him with the right coaching. Brini projects very nicely down the line.
What he would mean to the class
: Brini would be the biggest corner on Miami's roster right now. With Miami's depth issues at the position, he has an opportunity to come in and play right away and is a top local prospect being courted by Florida, Georgia, and Alabama.
Where Miami stands
: Although Brini would not flat out say the Canes lead in my interview with him the other day, he admitted that his visit to Miami last Friday separated the Canes from the pack somewhat. I see him ending up as a Hurricane eventually. Miami would like him to commit sooner rather than drag things out past the season.
[HUDL]athlete/2801889/highlights/281837376[/HUDL]