Miami working hard to flip FSU commit Fagan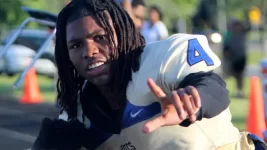 Daytona Beach Mainland High School safety Cyrus ***an is currently committed to the Florida State Seminoles, but that is not stopping Mark Richt and staff at Miami from trying to flip him to the Hurricanes.
***an committed to Florida State in late February, about a week after visiting Miami for junior day. Even though he committed to the Seminoles, ***an's trip to Coral Gables made a lasting impression on him. With multiple schools still hot on his trail, why did ***an want to commit as early as he did?
"It just felt right at that moment. It still does. I always loved Florida State and I was there when the spring game was about to happen and I was hearing all these wonderful things. It was the right time to commit," explained ***an.
Although he remains committed to the Noles, ***an says he will not close the door on any possibilities just yet.
"I'm committed to Florida State so I'm not gonna be a backstabber or anything like that, but I will never close my decision until I sign that paper," said ***an.
Leading ***an's recruitment to Miami is safeties coach Ephraim Banda, someone who the 7th-ranked safety in the country (247sports) has grown close to.
"He's a great guy. I talk to him basically every day. He tells me all the things that I need to hear about Miami and his past because I heard about the success of his DBs from before," said ***an. "I expect the return of The U. It fell off for a little bit, but after everything I've seen now I know that Miami will always be a great team."
***an visited Miami along with his mother, father, stepfather, god father, and god brother.
"My step-dad is from Miami so he loves The U. Both him and my god brother love The U, but they will also support me wherever I go," said ***an. "They were like kids in a candy shop out there loving it. I was able to understand why they love the school so much, as far as the tradition and everything. My mom loves it too."
Miami defensive coordinator Manny Diaz likes ***an's versatility on the field, but also his mentality.
"He likes that I'm the type of guy who gets excited when my brother makes a play on the field. He said you can't just be all about you on the field because the goal is to win as a team. I'm not going to just worry about myself so that everyone sees me because I want to be successful with my team," ***an said.
When asked to compare Jimbo Fisher and Mark Richt, ***an said the two are similar, but still have their differences.
"Coach Jimbo, that's my guy. I talk to him whenever I get the chance and he tells me that he loves seeing me and when I went up, he took my family in. The whole coaching staff made my family feel at home," he said.
"Coach Richt is a laid-back dude. When I talk to him, he doesn't really show any emotions; he just smiles. That's good because he never thinks negatively and that's a great thing as a coach because if something happens in a game or whatever, you always have to think positively and move forward."
***an said he is a connoisseur of football highlights, and he watches safeties in particular. He mentioned Ed Reed, Sean Taylor, Kurtis Drummond, and Jalen Ramsey as a few of his favorites.
The four-star prospect said that Georgia and Tennessee are two other schools on him hard. He mentioned that Alabama has recently been "back on him". ***an plans on going to Florida State camp this summer, as well as Alabama camp with his coach. He added that he will take an official visit to Miami at some point.
[HUDL]athlete/3901726/highlights/215491377[/HUDL]