Miami vs. Columbia Game Preview (via @HardwoodU)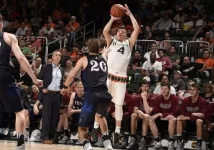 Quick breakdown for you guys this week as we're traveling to the bowl game and there's not a lot to discuss about Columbia. Hopefully, you all have a computer ready to stream the game while watching the RAB. If not, you can always follow along with your boys on Twitter
@HardwoodU
.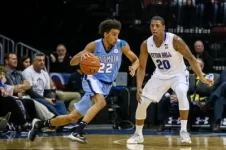 Opponent Breakdown
Columbia
comes into the game at
4-5
with no quality wins and losses to
St. Joe's, Seton Hall, Hofstra, Navy,
and
Army
. The Lions are led by 6'4", 175 lb. junior guard
Nate Hickman
(15.7 PPG) and 6' 10", 215 lb. senior forward
Luke Petrasek
(14.3 PPG, 7.0 RPG).
The Lions rank near the bottom of Division I in nearly every category, sitting at
271st
in rebounds,
277th
in points allowed, and
137th
in scoring.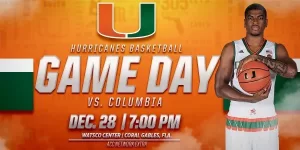 Courtesy: University of Miami
What to Watch For
Miami should win this game easily against a vastly inferior opponent. A win tonight would close the non-conference schedule with
no bad losses
, which will be key come tournament time as Miami's strength of schedule sits at
231st
in the country. Obviously, that metric will improve come ACC play, and the Canes sit in the RPI Top 100 today at
75
despite not having any signature wins. All that's to say that despite losses to quality opponents in
Iowa State
and
Florida
, barring a loss tonight Miami avoided any
FGCU/Northeastern
type losses
during an easy non-conference slate.
Since this article thus far has basically done everything possible to jinx this game, we might as well go all out and note that the Canes currently have a
19 game home winning streak
dating back to November 27, 2015 (Northeastern game mentioned previously).
Also noteworthy is that this will be the program's
1000th win
in history should the Canes prevail tonight.
How to Watch
When:
Wednesday, December 28th at 7:00pm
Where:
#PackTheWat
TV:
ACC Digital Network Extra
Stream:
WatchESPN.com
Tweets:
@HardwoodU