Miami Looking to Make a "Silent Creep" on 2018 5 Star DB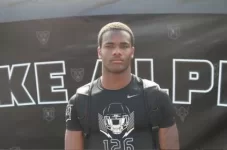 On the football field, 5 star defensive back Tyreke Johnson is violent.
"Aggressive with a lot of energy," Johnson said. "I'm fast and physical and I'm a trash talker."
After a junior campaign that earned Johnson an invite to the U.S. Army All-American Bowl, the 6'1" athlete is receiving plenty of college attention.
"UCLA, Georgia, Notre Dame, Ohio State, Florida, Oregon — those are the schools coming at me very hard," Johnson said.
And although Miami is not on that list, Johnson says the 'Canes are slowly getting involved.
"A little bit, they are trying to make a silent creep," Johnson said. "But I'm just taking my recruiting one day at a time."
Tyreke attends Trinity Christian High School, the same school Miami defensive tackle Kendrick Norton and defensive back Derrick Smith attended, and Johnson says the alumni have been in his ear.
"They tell me they love it," Johnson said. "[They say] the coaches take care of them, the city is wonderful and they tell me there is a lot of opportunity, and the best players play."
Despite their recruiting efforts; however, Johnson's relationship with the staff still needs to develop.
"I got a so-so relationship," Johnson said. "I don't really talk to them that much, but I feel like that is gong to change."
Johnson emphasized that he does not currently have a short list of teams, and is zeroed in on bringing another state championship to his school.
The 177 pound athlete also said he is not going to rush his decision, and won't announce one in the near future.
"Towards the end of the season," Johnson said. "Because I want to make sure I make the right decision. I don't want to just make a decision that I have second thoughts, no, when I make a decision that is it."