Miami lands coveted defensive end Johnson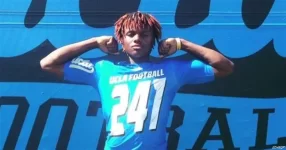 The Miami Hurricanes added a major piece to their recruiting class on Monday night, as 4-star Sacramento-based defensive end D.J. Johnson committed to Mark Richt's program.
Johnson had been a long-rumored lean to Miami. He visited two weekends ago for paradise camp, and said that the coaches were aware that he was favoring the Canes. On Monday night, the 6-5, 240-pound rush end announced his decision in a YouTube video.
"We were making the video this weekend, so whenever it was done, I was going to post it," said Johnsnon."I was telling the coaches that something good was going to happen within the next week. I knew I was going to commit this week, so I was dropping hints."
Social media and recruiting can sometimes be negatively related, but that has not been the case with Johnson. He says that his family loved to see Miami fans reaching out
to him.
"They were really excited about the support from different fans and players like commenting and welcoming me. It gave them assurance as to how comfortable it is and the type of program that's being built," Johnson said.
Johnson was a guest on the third edition of the CanesInSight podcast and mentioned that he had wanted to meet Brad Kaaya when he was on campus – that he did.
"He's a great guy. I got to talk to him about his transition (from California) and there's nothing to worry about there."
Much like fellow Canes commit Deejay Dallas, Johnson plans on being an ambassador for Miami's 2017 recruiting class.
"I will definitely be reaching out to people and already have been. Canes fans, get ready for me to kill this season and see what I can bring to the table," said Johnson.
"I will reach out to anyone who is a leader out there. If I watch their tape and I like it – I want to play with some ballers. We have ballers committed now, but we need a couple other guys who are thinking about it so my job is to push them towards that. Our goal is to win as many championships as possible and accomplish undefeated seasons. We need them on board," he said.
Johnson was to the point when asked why he believes that Coach Mark Richt is the right leader for Miami.
"Coach Richt is changing everything from bringing historic players back, changing the strength and conditioning staff, and bringing guys like Coach Kool here. He's bringing that competitive edge back and once we get to the top and stay there, there won't be any more questions about what we do."