Miami closing in on two OOS QBs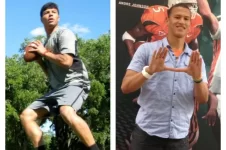 Although Hialeah's Alin Edouard is currently committed to Miami, James Coley has been hot on the trail of multiple out of state signal-callers. Malik Rosier of Mobile, Alabama and Brad Kaaya from West Hills, California could be Miami Hurricanes within the next month if everything goes as planned.
In an interview yesterday with CanesInSight's Tito Benach, Edouard said he hasn't been speaking to Coach Coley.
"I haven't talked to him often at all. I've even tried calling him and he doesn't answer."
Edouard also had this to say, "When I say that my commitment isn't strong, that doesn't mean I'm going to de-commit. I want to be a Hurricane, its just more that I've been getting contacted by a lot of coaches and my head has been spinning."
The full story on Edouard can be seen here:
http://canesinsight.com/content/1713-Edouard-Gives-the-Latest
. As for Kaaya and Rosier, both hold Miami offers and have the 'Canes on top. Interestingly, both also plan to compete at the June 1st Al Golden Football Camp. Kaaya was on campus back in March and told me last week that Miami was his leader and he plans on announcing in June:
http://canesinsight.com/content/1710-Miami-leads-for-QB-Kaaya-plans-on-announcing-next-month
While Kaaya has had his offer since mid-March, Rosier received his offer from Miami last Monday. The night before Rosier was offered by the 'Canes, this is what he had to say about the possibility of the offer coming.
"It would be hard for me not to commit, but me and my mom talked and she's one of those people that doesn't want me to commit until the season because she wants me to see places so she's not gonna let me commit until actually right before the season starts. Me and Coach Coley talked and I already told him it's gonna be hard not to take that opportunity. Right now, Miami is my number one so it will be a dream come true if they offer."
I spoke with Rosier tonight and he had some interesting comments.
"I found out about the offer through Coach Coley and I was excited about the offer. It was a little tough not to commit, but I don't wanna commit too early. I wanna see the campus and feel the environment before committing. I plan on making my choice at the beginning of football season," said Rosier.
The 6'2", 210-lb Alabama product will get a look at Miami's campus on June 1st and that could help seal the deal for the 'Canes.
The California native Kaaya had some Cane-friendly tweets this week.