"Louisiana Savage" Gerald Willis set to make Canes debut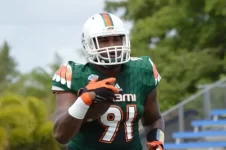 Miami Hurricanes defensive tackle Gerald Willis often refers to himself as a "savage" – his teammate Chad Thomas went on to help explain what exactly that means.
"A savage don't care. He's going to listen to the coaches and probably make a couple mistakes, but a savage does not care. When he gets to you, it's going to be a hard hit or he'll slam you into the ground," Thomas said.
By the time kickoff comes on Saturday night for Miami against FAU, it will be 651 days since Willis played in a college football game.
The once-prized recruit left the Florida Gators program after a tumultuous freshman season in Gainesville. At UF, Willis was notorious for locker room fights and an intentional clubbing of Jameis Winston on national television.
[VINE]55FZjddl063[/VINE]
Willis sat out last year per NCAA transfer rules – but his wait to step on the field became longer than expected when Miami announced last week that he was suspended for the first game against FAMU for violating team rules.
With Mark Richt calling defensive tackles Anthony Moten and Courtel Jenkins "questionable" for the FAU game, this comes as the perfect weekend to unleash Willis on opponents. As Chad Thomas put it, "Gerald is a dog – on and off the field."
"I just seen him work yesterday in one-on-ones and he was making plays. I was shaking my head because the team we play on Saturday has to feel him," Thomas said.
By most accounts, the former four-star recruit out of Edna Karr HS in New Orleans was the most dominant defensive lineman of fall camp and dating back to spring practice for the Hurricanes. The coaches plan on using him as a versatile pass rushing specialist who can be disruptive from the interior.
Willis' teammates feel like he is a changed man -- mentally and physically.
"He's ready for this opportunity," said sophomore tackle R.J. McIntosh. "He's more focused this year. He gained muscle weight and is around my weight of 280, 285."
"He's not going to be blocked. No matter what they do to stop him, he won't be blocked and he's going to disrupt plays," said Trent Harris.
[VINE]55F2xmzI7H7[/VINE]
[VINE]55F0wEJtYFX[/VINE]