Kaaya's QB Coach Carpenter talks progression, Nebraska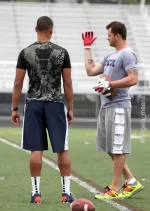 More than two years ago, Steve Kim wrote a story for CanesInSight on the relationship between then-recruit Brad Kaaya and his QB coach since freshman year of high school, Rudy Carpenter (that story can be seen here:
https://www.canesinsight.com/thread/recruiting/54163
). Carpenter had a record-setting career at Arizona State before playing with the Dallas Cowboys and Tampa Bay Bucs from 2009-2013. This morning, I had the chance to speak with Carpenter about Kaaya and he gave some tremendous insight.
Q: Obviously it's tough to judge a lot based on Miami's first two opponents, but what have you noticed as the biggest difference for Brad from year 1 to year 2?
Carpenter:
I think there are a lot of things that's different with Brad. The command of the offense is a pretty natural progression, so he's obviously going to feel more comfortable within the offense from the personnel groupings to communicating audibles to just having the ability to call plays at the line. As (James) Coley starts to trust Brad more and more as the games go on, I think that's an important thing because you'll see more passes on first down, you'll see more double moves, and you'll see more stuff that will help their offense become more explosive. His confidence in his ability and who he is as a player and his belief in the coaching staff is a big difference this year. The other difference is clearly he's much more comfortable, whether it's home games or away games, with the setting. It's not a big deal going on the road for him anymore. He's done all of that stuff.
Q: Is there something in particular that has stood out to you about his improvements in the past year?
Carpenter:
The part of his progression that I like the most is that he's saying all of the right things; he's handling practice correctly, handling the game situations correctly. So you can see him trusting himself more now and he's not afraid to make tough throws or throw guys open. Last year, the only throws he would really make were if a guy was wide open. Otherwise it was a throwaway, he took a sack, or something bad happened.
Q: It seems like the offense is a bit more open this season in terms of spreading it out and the tempo. How does that fit Brad's ability?
Carpenter:
Brad is a versatile player in the sense that he can play in an up-tempo, spread, under-center pro style. In my opinion, he can do whatever you want from a schematic standpoint. They lost a lot in Dorsett, Walford, and Duke so they have to find a way to allow time for their younger players to develop and get comfortable in the system. They have to find a way to manufacture points, which sometimes you do by spreading it out, going up-tempo, and then slowing it down and using different shifts and motions in the offense.
Q: In your opinion, what is the part of Brad's game that has the most room for improvement?
Carpenter:
I have a little different perspective since I came from the NFL and I'm happy that Brad feels more confident in the offense, but I also know that one of the biggest things for him is you have to make things work. I don't care what running back is hurt or what receiver is hurt or if there's a rain delay or whatever. I think he's done a good job so far, but you can always improve in situations whether it's third-down offense, red zone offense, blitz pick-up. One of the best attributes that any quarterback can have is just to make it work. I keep telling him don't ever get complacent or bored. You still have a long way to go in your development as far as understanding blitz and coverage indicators. You can always get better and your pre-and-post snap reads. One of the main things I love about Brad, and this might be selfish or whatever you want to call it, but he really wants to get The U back to being 'The U'. He wants to leave the University of Miami as the best quarterback ever there and that will be judged on wins and losses. That's a big deal to him.
Q: How often do you get to talk to Brad and what sort of stuff do you tell him?
Carpenter:
I talk to Brad all the time. I don't ever want to get in the way of what his coaches are teaches him and telling him. I usually talk to him twice a week and I send him a bunch of texts right when the game is over just on some things that I saw whether they were good, bad, or indifferent. Usually on Thursdays or Fridays before they get ready to play, I just always make sure to send him a reminder to be decisive, make smart reads, throw with timing, anticipation, and just have fun. He usually sends me a few texts throughout the week if he just wants to talk.
Q: I know you've had the opportunity to interact with James Coley in the past, so can you just describe the type of coach he is and his relationship with Brad?
Carpenter:
His personality resonates with the kids. The thing that I know Brad appreciated through the recruiting process was his loyalty and his belief in Brad. Brad is a very interesting guy in the sense that he is an ultra-competitive guy, but he is not overly emotional. He has a very laidback demeanor and he's very curious about football. I think Coach Coley fits Brad very well because they're not these crazy Rex Ryan-type guys. They're both calm, collected guys who are trying to figure out a way to win without being too overhyped or over-emotional.
Q: So the Canes have their biggest test of the season thus far this week against Nebraska. I'm not sure how much you've been able to watch of the Cornhuskers, but what are some keys for not only Brad but the Canes to win the game?
Carpenter:
Nebraska came off a heartbreaking loss against what I think is a much better BYU team than people think. Brad is going to do a good job of being efficient, but they have to stay ahead of the chains. 1st and 2nd down can't be negative plays. They have to stay on schedule. It's always important in a game like this to not turn the ball over. I always tell Brad that you've done your job as a quarterback if with four minutes left in the game, your team still has a chance to win. The defense has to do a better job of stopping the run and getting off the field on 3rd down.