Jhavonte Dean updates recruitment with CIS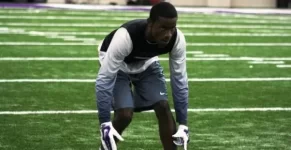 With Miami looking for immediate help at cornerback, they've turned their attention to the junior college ranks and have keyed in on a local product – Jhavonte Dean, originally from South Dade High School. Dean updated CanesInSight on the latest with his recruitment.
Defensive coordinator Manny Diaz dropped in to Blinn College last week to see Dean, then safeties coach Ephraim Banda was in Texas yesterday getting to know him. Dean said that him and Banda broke down film together and they envisioned his role in the defense.
Another Canes coach is on deck to see Dean this week as well – presumably cornerbacks coach Mike Rumph.
"They've been hitting me up for like two or three weeks straight now, and they kind of topped it off with the visits to come see me and they said there will be another coach coming either this week or next week too," Dean said.
Although Dean is technically still committed to Alabama, he considers his recruitment "open" and added that Miami and Arizona State are in contact with him the most. South Carolina is another team to watch, although Dean said that they have only contacted his coaches, not him directly. He will visit Arizona State this upcoming weekend.
"Coming out of high school, I wasn't really highly recruited like that so it never crossed my mind that I could play there (Miami). It was always my favorite team and hoped they would offer me," he said.
Something potentially on Miami's side are family ties, specifically his mom, drawing him close to home. Dean explained that it would not be the ultimate deciding factor, though.
"She's not trying to make me go to one school. She's with me wherever I go," Dean said.
He did however, let her know that the hometown Hurricanes were a possibility.
"When I first told her about the offer, she was excited because it's she knew Miami has always been my favorite team since I was a little kid. It kinda meant something to her."
The nation's number-one ranked junior college corner according to 247sports will visit Miami on January 13th weekend. Miami coaches told Dean that they want to have his mother along for the official visit as well – serving as a chance for the them to strike up a relationship with her.
Miami's success defensively this season has caught his attention.
"I've watched a few of their games and you can tell their defense has improved. Coach Banda was showing me videos of the defensive backs tackling in practice and how it translates to the games. They've made a big improvement in the last year," Dean said.
With Corn Elder and Adrian Colbert moving on to the next level, Dean realizes the opportunity to see the field right away might not be guaranteed, but it is there for the taking.
"That's definitely a positive for me," he said.
As far as how Miami would utilize Dean if he chose the Canes, he said that Coach Banda told him he would play some nickel and be given the chance to move around on the defense. It certainly appears like Miami is a serious player here.