Homer continues to show progress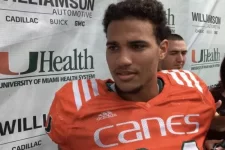 Miami sophomore running back Travis Homer is expected to be an important part of UM's offense next season as the team's projected
#2
behind Mark Walton.
Although coaches were impressed with Homer's progress since year one, Gus Edwards' transfer and Joseph Yearby declaring for the draft opened the door for the Palm Beach product Homer to see the field much more in 2017.
Homer said that his biggest area of improvement since last season is, "definitely reading the defense for protection."
"It's a big part of our offense. Last year, I was having real hard trouble reading the defense, but now not as much," he said.
The second-year tailback was an ace on special teams for the Hurricanes last season and he said that he is still working on that unit in spring. Homer added that playing special teams as a freshman, "gave me the opportunities to be in a game-like situation."
It's no secret that Miami's running back situation is not the deepest position on the team. Homer addressed how that affects spring practice.
"We definitely have to keep our conditioning up as a group and just keep working and getting better," Homer said. "It gets us more experience running the ball, but it helps with our conditioning."
UM's star running back Mark Walton has been as reliable as any player on the roster over the past two seasons – Homer is trying to learn from him.
"Whenever I'm having a problem, he just steps in and pulls me aside or something and comments on what I need help on," Homer said.
"I just talk to him day-to-day, watching more film after practice, just telling him to stay lower and patient with his reads. He'll be a great guy," Walton said. "There's some things he can work on like patience, but overall he's going to be a **** of a player.
Offensive coordinator Thomas Brown gave his thoughts on Homer midway through spring practice.
"Travis has always been a very mature guy from day one, compared to most guys coming out of high school. He's trying to continue to push himself every day and compete with Mark," Brown said.