Elite 11 QB Coach discusses Weldon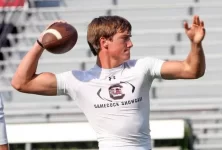 Miami received their second quarterback commitment of the 2017 recruiting class on Monday night when Tampa Jefferson's Cade Weldon committed to Canes, joining N'Kosi Perry. I had the opportunity to speak with Baylin Trujillo who is the QB coach at Oak Ridge HS in Orlando, as well as an Elite 11 QB coach. Trujillo worked with Weldon at both the Orlando and Miami regional opening combines and has maintained a relationship with Weldon through their time together at the camps.
"Cade is a natural leader. He's very vocal whether it's a drill or 7-on-7, so he's not shy to give his opinion. He's not a quiet kid and has an outgoing personality," said Trujillo. "From the moment I met him and starting warming up with him, he was very eager to learn and ask questions."
Weldon is rated as a 3-star recruit by most services, but Trujillo believes that can be attributed to Cade tearing his ACL on the opening drive of his junior season.
"There's a couple schools around here that were interested in him, but haven't pulled the trigger because of the injury. It's very hard, especially during your junior year when you can start receiving offers," explained Trujillo.
According to Trujillo, Weldon was not far off from qualifying for The Opening in Oregon, which is considered the premier offseason combine for national recruits. Trujillo thinks that if Weldon simplifies things, he will take the next step as a quarterback.
"He was only a couple throws away from making it to Oregon for The Opening. We had to go with the guy with the most completions, which was Jake Allen at the time. He (Weldon) has the big play mindset so he wants the big shot. I stressed with him that it's all about completions."
Weldon's father, Casey, played at Florida State and was the Heisman Trophy runner-up to Desmond Howard in 1991. If Florida State does offer Weldon, Trujillo does not necessarily think that will make a difference in his recruitment.
"He has all the tools to be great. He's out there to prove himself after the injury. He wants to kind of start his own legacy with what he has to offer as a quarterback, so it's cool to see him do it his own way," said Trujillo. "Most people probably would have predicted him going to Florida State to follow his dad, but he wants to make his own path and fortunately enough it's with the Hurricanes."
Trujillo noted that Weldon's intangibles really stood out during his time around the new Canes commitment.
"All of us at the regional opening were so impressed with his personality, which you have to have at the quarterback position. It's hard to lead without being vocal and having the ability to communicate at the quarterback position."
Physically, Weldon seems to also have the makings of a big-time quarterback.
"The biggest strength he has is definitely his arm. He has a big arm and can make all the throws effortlessly. He's got a beautiful frame for football. Mechanically he's really good and has great footwork especially considering he's coming off that ACL injury," said Trujillo. "He passes the eye test completely, but he will be a late bloomer once he gets more film. College coaches will be asking how they missed on the kid."
Although other top-notch offers are bound to come his way, Trujillo explained to Weldon that Miami's belief in him should go a long way.
"I hope he stays with the commitment. I told him Monday night that it's rare to have a team of this magnitude and tradition to offer you this early, especially with no film. I'm pretty sure he's a solid commitment from what he told me."
Weldon is only five and a half months removed from his ACL surgery according to Trujillo, which makes his camp performances all that more impressive.
"He's confident with it, which is what you always worry about with an injury that catastrophic. He's wearing the knee brace still and I think he should continue to do so, but he's passing every test," said Trujillo.
Weldon's affinity for the big play is something that Trujillo wants him to be careful with. The Elite 11 QB coach explained that Weldon just can't fall in love with the deep ball.
"It's more mental as far as the game. He has all the tools mentally as far as the reads, the drops, and everything, but it's more about the calmness of trying to keep within himself. I'm big on the completions with him. As long as he stays within the moment and doesn't make the moment bigger than it is, the sky is the limit for him."
Weldon was listed at 6'2.5, 205-pounds at the regional combine in Miami.