DL preparing to see cut blocks vs. GT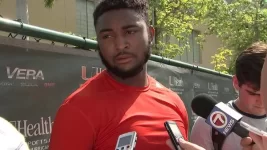 Miami will face a tricky offensive system on Saturday against Georgia Tech with their triple option. What makes the system tougher to defend for defensive linemen though is the Yellow Jackets' use of the cut block.
Cut blocks are when offensive lineman knock down defenders by hitting them low, often near the knees. It is a legal play per NCAA rules, "as long as the block is no more than five yards away from the line of scrimmage and it is inside the tackle box."
Canes defensive end Demetrius Jackson said that his position group has been working on how to combat GT's blocking tactics.
"We've been trained on how to get cut, so I really haven't had the full effect of it," he said.
"You have to use your eyes and play fast with them. Just good technique – there's really no other way to explain it other than going against it in practice. The scouts are cutting us and we have to bring our training to the game."
Jackson added that he thinks thins week is an adjustment for some of his teammates such as, "the freshman and the people who haven't played Georgia Tech or any cutting team."
Jackson said North Carolina, who Miami plays at home on October 15th, is another team that frequently utilizes cut blocks.
Miami's defense ranks top-10 nationally in multiple defense categories, which Jackson attributes to the defense's attitude.
"It's been a big difference the whole year, just more of an attacking defense. We aren't having mercy on anybody," Jackson said.
What is the key to stopping the run game this weekend?
"We just have to attack and play assignment ball. Basically mainly we have to go out there and have fun and fly to the ball."