Defense's success gives Brini confidence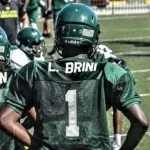 Miami was hot on the trail of Mater Academy defensive back Latavious Brini back throughout the spring and into the first half of the summer – that was until Brini committed to Kirby Smart and the Bulldogs in Athens.
Just months after Brini pledged to UGA, he is back as an uncommitted prospect and the local Hurricanes are heavily in the mix once again. Brini has been two Miami games at Hard Rock Stadium this season, including Saturday night's game against Florida State.
"I loved it. Even though they lost, UM put up a great fight. I loved everything about it," Brini said. "That crowd was crazy. Every time Miami made a first down, they want crazy."
Brini added, "That's the craziest game I've ever been to."
Possibly the biggest difference for Brini as it pertains to Miami is that he is seeing success on the field to back up what the coaches have been selling to him for months.
"The defense is amazing this year," he said. "It's surprising a little bit, but it gives me a lot of confidence. It gives me confidence that if I go there, I'll play for a great coach and a great defense. I saw a lot of freshman play and have a chance to see the field."
Brini admits he was not ready for a commitment when he did so back in July, but he feels like the experience has helped him mature along the way.
"I really, really understand the process now of committing somewhere," Brini said. "My next decision will be my final decision. I'm going to take my official visits and then make my decision."
Even through his commitment to Georgia, Miami coaches stayed in contact with Brini, which he said showed the Canes' "loyalty" to him.
The 6-2 Mater Academy DB has maintained a relationship with both Mike Rumph and Ephraim Banda. Brini said that he is open to playing either cornerback or safety at Miami.
On the possibility of playing at home in Miami:
"When you play in front of you're hometown, you're playing in front of people that you grew up with. That's crazy."