Daquris Wiggins is "locked in" on Miami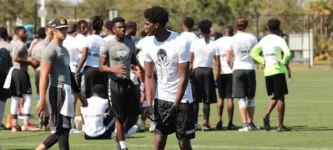 At the opening regional in Orlando this past weekend, Miami targets were everywhere.
All eyes were on uncommitted prospects such as Mark Pope and Brian Hightower, but Miami wide receiver commit Daquris Wiggins doesn't need all the attention.
"I'm really locked in with UM right now," Wiggins said. "That is where I'm going to take my talents."
Wiggins was a part of a loaded Miami Southridge wide receiving corp in 2016 that included other division one talents such as Kemore Gamble and Mark Pope.
Wiggins stands high above the rest at 6'2", and displayed his physicality on Sunday.
[TWEET]833400649043812357[/TWEET]
Wiggins will provide size to a Miami wide receiving corps which already has Lawrence Cager and Ahmmon Richards, and has embraced the UM tradition.
Wiggins attended Miami's junior day last week, and continued to develop his relationship with the coaching staff.
"Junior day was great," Wiggins said. "Had a long talk with Coach Dugans, had a long talk with Coach Dugans I mean it was great. That's family, it's like a family to me, so I'm locked in with UM."
For Wiggins, the continuity of the staff is part of what makes him feel most comfortable.
"Every time I come its the same thing," Wiggins said. "They are family, it's all love."
Wiggins was there with teammates, and has recruited players such as Mark Pope by example.
"Only way I'm gonna get them over there is just show them," Wiggins said. "Show them the way, just lead them."
As for Wiggins' role on campus at Miami, the 180 pound receiver expects to be a big part of the offense while playing on the outside.
"All the coaches are telling me I'm an aggressive receiver," Wiggins said. "Good route runner, and fast for my size."
Wiggins is one of Miami's most solid commits, and attributes much of his love for the 'Canes to the coaching staff.
"Every time I see them the relationship is getting better and better," Wiggins said. "It don't get worse it's good man, the relationship is good they are a good coaches."
And at the end of the day, Wiggins' mindset is simple.
"Why not stay home and bring a championship?"