D.J. Johnson solidifies commitment after in-home visit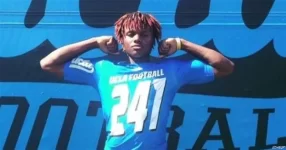 Following recruiting in today's social media age can be a funny thing. Over the last two weeks, Miami Hurricanes fans have been absolutely flipping out over the thought that defensive end D.J. Johnson possibly staying on the West Coast – and a lot of the speculation was cause by a pro-Washington Facebook post that was not even his real page and the lack of Miami retweets on his Twitter page.
Tonight, Johnson cleared the air on his commitment status and makes it known that he will be a Miami Hurricane.
"I've been focused on my team's playoff run, so I kinda shut down everything and haven't talked to anybody. It wasn't personal or anything against Miami," Johnson said.
"I was taking the other visits (Washington and USC) just for the experience of it, but I'm going to be taking the Miami one last one on January 13th because that's the most important one," he added.
Miami sent two of their big guns out to Sacramento today as defensive coordinator Manny Diaz and defensive line coach Craig Kuligowski to solidify Johnson's commitment – and it appears that they've done just that.
"Today was a great day to have them come. They told me they need their talents and that they don't have a guy at my position who can do what I can do. From their needs on defense, what I do is naturally a great fit for what they do," Johnson added.
"My family has been all-in on wherever I wasn't to go as long as they're talking to the coaches and think they're people that they can trust and are good, genuine people."
Although Johnson said he will allow other coaches to visit him out of respect, he has a message to Miami fans who have been blowing up his social media over the last few weeks.
"I'm here to stay. They've got nothing to worry about – there's no doubt I'm going to Miami. That's been my dream school since I was younger and the opportunity to play for a team with history like that and the opportunity to play for the same school as my favorite player, Sean Taylor, it's a no-brainer for me."
[TWEET]803391119895777280[/TWEET]