CB Dean coming to UM with sense of urgency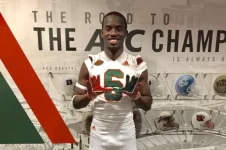 Most Miami fans are familiar with the story of 2017 class cornerback signee Jhavonte Dean. Originally a member of the 2014 class from South Dade high school, Dean was a non-qualifier after signing with Cincinnati.
Left with no other choice, Dean enrolled at Blinn Junior College in Texas. Although the JUCO experience is not one that any prospect hopes to endure, it allowed the speedy defensive back to hone his craft and apply himself in the classroom.
"The biggest lesson I learned was take care of your grades first before you do anything and just go out and compete every day, on-and-off the field," Dean said.
The Homestead native said that he grew up loving the Hurricanes, but it never really crossed Dean's mind that he would have the chance to one day don the orange and green. He was committed to Nick Saban and Alabama for most of the recruiting cycle last year before the Canes came into the picture heavily.
"It was something I never pictured before," he said. "Miami was always my favorite team, but in high school I never really pictured myself being recruited by the University of Miami until I got to the junior college level. Me coming back home after I did my two years in Texas is just lovely to come back home close to my family and they can come to all of the games."
Dean is entering Miami with a certain sense of urgency -- with his eyes set towards the ultimate goal of playing at the next level.
"I only have two years left on my NCAA clock, so with me transferring to the University of Miami I'm going to do everything in my will and possible to make myself able to hit the NFL draft and I'll do my best to get there," he said.
When asked what excites him about the film he watched on Miami's defense last season, he noted the improvement Corn Elder.
"They did way better than the year before in tackles for losses and tackling better. Corn Elder became a better tackler and they became a better coverage team overall," Dean said.
It's been a common theme over the past few months, but one-year Cane Adrian Colbert had his hand in Dean's recruitment as well.
"We were sitting inside his room and he was giving my the insights of how I can come in and compete for the job and giving me the ins and outs of the defense. He was telling me that Coach Rumph is a really cool dude to be coached by. That was basically it -- he didn't really try to sway me to make a decision. He was just being honest with me," Dean explained.
Dean will be arriving at Miami in May. His measurables are something that has Canes fans excited as he is currently at 6-1, 184-pounds and said he was clocked running in the 4.3s as recently as last week. He does not foresee much of an adjustment period when it comes to the speed of the game or level of competition.
"I don't think there will be much with me having the experience as a JUCO guy, but there are still some things I haven't mastered down like technique-wise such as jamming wide receivers at the line of scrimmage -- I think Coach Rumph will do a good job of helping me with that," he said.
With just about a month until he enrolls at Miami, Dean's eyes are on the prize.
"I'm gonna show up on day one and work hard for a starting spot and hopefully we can get everything going on the right track and win games."