Camron Davis ready to create tandem "nobody can beat"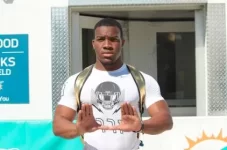 For recent Miami commit Camron Davis, joining Miami and staying home was too much to resist.
"It's a great feeling to stay home in Miami," Davis said. "That's where I've grown up, that's big to stay home."
Davis committed to Miami last week after visiting for junior day, and said he pulled the trigger after feeling a sense of family amongst the staff.
"I like Coach Richt's swag," Davis said. "I like how he talks and I talked with them about their background, everybody's background, and he has been putting a lot of players in the NFL."
Richt has coached top running backs such as Todd Gurley and Knowshon Moreno, and brought in the second half of a dynamic duo with Davis and Lorenzo Lingard.
"We've been talking," Davis said. "That's gonna be the dual threat for us, you know, that's the two best backs in South Florida [for 2018], nobody can beat that."
Davis and Lingard are planning to make plays from day one on campus, and Davis believes he has made the right choice due to his relationship with the coaches.
"They talk to me on a daily basis to check up on me," Davis said. "They see how I'm doing, see how I'm doing in school, that type of thing. Everything [about that relationship] is very good."
Davis has been very active in the offseason circuit through 7 on 7 tournaments and tryouts like on Sunday. The 5'10" 191 lb running back was given an invitation to the Opening in Oregon this summer after performing well in front of coaches at the Miami regional today.
[TWEET]835923729859358722[/TWEET]
Davis has not only used this offseason to better himself as a player, but also hopes to lead by example and get other athletes to join the class.
"I know a lot of people saw me commit," Davis said. "So it's like 'hey this big time recruit committed so I want to commit with him and get big time players'."
Davis committed to the Hurricanes last weekend, on the same day as his teammate Randy Russell.
Davis says that he "had to take Randy" with him, and expects more to come as well.
"I'm gonna take a couple more guys with me," Davis said. "I'm just waiting on them."
The Carol City product says he wants to take "4 guys" with him, and is confident going after big names.
"[Mark} Pope, a lineman from IMG," Davis said. "You know a lot of guys I'm talking too."
Davis is among the many Miami commits recruiting other players, and he plans on continuing to recruit them as the process goes along.