Brini's visit separates Canes from the pack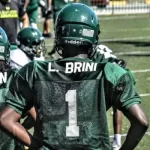 Miami safeties coach Ephraim Banda has drawn high praise on the recruiting trail early in his Canes tenure. Yesterday, Banda was on a mission to help top cornerback target Latavious Brini separate the "real" from the "fake" in his recruitment.
Brini took an unofficial visit to Miami yesterday with his younger brother Montavious (2019). It seems like the visit was extremely productive on Miami's end.
"I had planned it. I wanted to talk to Coach Banda. It was great because he explained a lot more to me," said Brini." I can't say exactly what he told me, but basically it was that you can't really listen to what colleges tell you. They just gas you up to get you, but Coach Banda was speaking the real."
Banda's conversation with Brini did not come as a surprise to the lanky corner out of Mater Academy, but the 6-2, 185-pound prospect did say that it made him feel at ease.
"I know that's how he was before. Both him and Coach Rumph are recruiting me. They make me feel way more comfortable because it's more than just football. He's (Banda) like another parent to me basically."
Another point in their discussion was the fact that the Hurricanes have made Brini a priority in this recruiting cycle.
"It makes me feel great. Some schools that have offered me just want me, but they need me," Brini added.
Brini would not say he had a leader in his recruitment, but when asked if yesterday's visit separated the Canes from the pack, he responded "yes". He also noted Georgia and USC as two schools he is taking a hard look at, but added "it's still a long list".
A highlight of the visit for Brini was bringing his younger brother along. Montavious already has multiple offers and Latavious believes yesterday was a nice learning moment for him.
"It was a great experience to let him see what I'm going through so that when his recruitment starts jumping, he will know what it's like," Brini said.
The rest of Brini's family is all for him staying in Miami.
"They would love to have me close to home. They can come to every game and it would be great to have family members to come watch me," he said.
Brini will attend Georgia camp on June 11th and Notre Dame on June 17th