Brian Edwards breaks down his commitment to Miami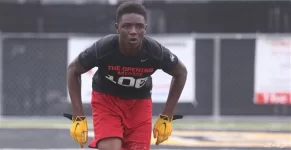 Miami landed one of their top priority recruits on Friday night at Paradise Camp, as St. Thomas Aquinas defensive back Brian Edwards (6-3, 185) committed to Mark Richt and staff. Edwards broke down his commitment with CanesInSight.
"It's a really deep decision when you are thinking about committing. I spoke to a few of the players like Sam Bruce, Stacy Coley, and Jermaine Grace," he explained.
"Talking to those guys and being able to bond with the coaches at Paradise Camp was great. That's one of the reasons why I committed along with knowing what I could bring to the table for the Canes."
Family was a huge part of Edwards' decision to commit to the Hurricanes last weekend. Although his mother wasn't able to make it to campus with him as expected, the versatile defensive back Edwards explained that she was a major reason why he wanted to put on for his hometown school.
"She wasn't able to make it down to Paradise Camp, but she will be able to come down probably next month. As soon as she gets free, she's going to come and check it out with me," said Edwards. "Her being able to come see me play was a big part of my decision. I really wanted to commit because I know she can drive to all of my games and see me play at the stadium. My whole family is excited."
Edwards' length and ability to cover makes him an extremely valuable asset in Miami's recruiting class and he has played both corner and safety in high school. So has his primary recruiter been safeties coach Ephraim Banda or cornerbacks coach Mike Rumph?
"I would probably say Banda, but Rumph knows I can play corner so me and him have a bond. Banda wants me to play in that nickel spot and at safety too. Coach Rumph knows that if I want to play corner, he will take me any time," Edwards said.
"Coach Banda got to talk to my mom and he would send her happy birthday and talk to her on holidays so they have a great relationship."
Edwards spoke about his experience at Miami's Paradise Camp and the opportunity to meet some ProCanes.
"I felt like it was a big position for me to be able to showcase my talent in front of alumni and the players and all that. Just being able to hear a few words from Ray Lewis helped me a lot and really motivated me," said Edwards.
"It was great hearing from Kenny Phillips about my commitment – he was really excited. Just being able to talk to all of those guys and hear about the work they put in was amazing."
One of the important aspects of Paradise Camp for Edwards was being able to bond with other Miami recruits over the weekend.
"I was able to talk to Jerry Jeudy a lot," he said. "I feel like the Canes have a good chance especially since he came out to Paradise Camp, so now I think it's a great chance.
They really have a high chance with him and he has a cool vibe. He's a great kid and he's a ballplayer. I can see that he's a go-getter."
Another Miami target that Edwards was able to see for the first time was Palm Beach Gardens safety Amari Carter.
"Oh my god, I didn't even know about him. People had talked about him, but being able to be out there with him was great," he said. "I think Miami's chances are great.
Coach Banda is on him really hard and even Banda's wife was talking to him. They really want him. It was great to play with him out there and see what the future could hold for both of us."
Edwards' message to Canes fans: "Just be on the lookout this season. I'm going to bring a lot to the table and I can't wait to contribute to that program. This is going to be a big year for Miami and Mark Richt is going to do a lot. I am going to be a big-time player my freshman year and I am going to contribute to the Hurricanes."