Breaking down local Miami OL targets
Miami's most glaring weakness this season has been the play of the offensive line. Not only do the Hurricanes need an obvious infusion of talent and depth on the roster, but Danny Isidora graduates and Sonny Odogwu has shown to be injury-prone. This leaves an opportunity for multiple incoming freshmen, as well as LSU transfer George Brown to make an impact next season.
The Canes currently have Navaughn Donaldson, Zach Dykstra, and Zalon'tae Hllery as commits in the class. Donaldson appears to be a 5-star caliber talent, but but Dykstra and Hillery are a couple years away from really being big contributors. Mark Richt and offensive line coach Stacy Searels have now turned their attention to this group of local prospects to turn their fortunes around in the trenches beginning next season.
Central's Navaughn Donaldson is the prize of the class right now alongside N'Kosi Perry at quarterback. Kai-Leon Herbert is a Michigan Wolverines commitment who Mark Richt has been pushing for very hard recently and the Canes have a solid shot to flip him. Tedarrell Slaton has been slowly coming around to the Hurricanes and Richt. He is high school teammates with Herbert and Miami has put themselves in a good position to land him down the stretch. Kadeem Telfort, a former Canes commit and now committed to Florida, is being tracked by Miami but it looks like they prefer Herbert and Slaton.
I reached out to multiple local high school coaches who have seen these Miami targets either live, in camp, or on film. Most of them have coached against these prospects and if not, clarified where they had seen each player. A majority of these coaches that I surveyed are offensive or defensive line coaches as well.
Navaughn Donaldson
247 composite - 4-star (.9638),
#12
OT
Rivals - 4-star,
#8
OT
Scout - 4-star,
[URL=https://www.canesinsight.com/usertag.php?do=list&action=hash&hash=2]#2
0[/URL] OT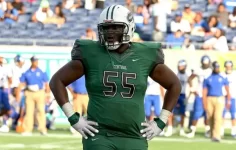 Kai-Leon Herbert
247 composite - 4-star (.9063),
[URL=https://www.canesinsight.com/usertag.php?do=list&action=hash&hash=2]#2
7[/URL] OT
Rivals - 4-star,
[URL=https://www.canesinsight.com/usertag.php?do=list&action=hash&hash=2]#2
8[/URL] OT
Scout - 4-star,
[URL=https://www.canesinsight.com/usertag.php?do=list&action=hash&hash=2]#2
6[/URL] OT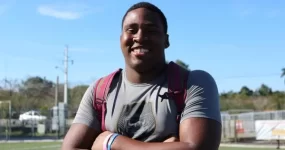 Tedarrell Slaton
247 composite - 4-star (.9715),
#2
OG
Rivals - 4-star,
#9
OT
Scout - 5-star,
#2
OG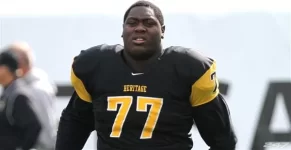 Kadeem Telfort
247 composite - 4-star (.8925),
#32
OT
Rivals - 4-star,
[URL=https://www.canesinsight.com/usertag.php?do=list&action=hash&hash=2]#2
6[/URL] OT
Scout - 4-star,
[URL=https://www.canesinsight.com/usertag.php?do=list&action=hash&hash=2]#2
8[/URL] OT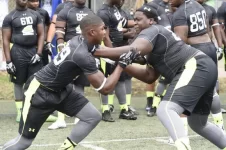 Here is a video that I put together of all four of these prospects as well:
COACH A
"Familiar with all of them a little bit.
Saw Donaldson in person at paradise camp and then saw him on film when scouting Norland's defense. To me he's an elite player. Can't imagine a better looking lineman in the country. More impressed with him than I am with Leatherwood (although he's a stud too). Very versatile, could play guard or tackle and start right away depending on where he's needed most. Big mauler, very agile, long, nasty. Best in South Florida and in my opinion better than multiple tackles ranked ahead of him that I've had the chance to also see and play against in person. I'd be shocked if he didn't finish as a top 5 tackle in the country at the end of the season.
Watched a little bit of Telfort this summer after we scheduled Norland. Very long, seems more polished as a pass protector than run blocker. Another versatile guy that could play tackle or guard and possibly play early at UM. I think Herbert and Donaldson would both be better at tackle because of how freakish athletic they are, so if Miami was some how able to pull all 3 I think Telfort would be the most likely to move to guard and I think he could be really good there, possibly play right away. Knows how to use his hands well and his length is ideal so I think for that reason Miami would probably rather him at tackle.
Somewhat familiar with the 2 from Heritage just because they're our sister school and we've had some common opponents this year so I've gotten to see them on film as well.
Herbert is very quick and athletic. A little light in the *** right now but all that means is he'll put on good weight in college. Would be a phenomenal guard with his quickness creating movement but he just isn't heavy enough (yet). I think he's definitely a tackle when he first arrived in college but if he puts on some weight could play guard if needed. Great first step and drive. Not asked to pass pro that much but he's so athletic I think he'll be a quick teach. Our head coach is an O-line guy and I know his favorite of the 2 Heritage kids is Herbert by a lot.
Slaton is a guard to me. Just isn't as nimble as the other 3 and his build makes him more of an inside guy. Lacks that quickness you'd like to have in a tackle when dealing with speed pass rushers. Probably playing tackle in high school cause he's one of their best 2 lineman and they can hide lesser players in the interior. Very powerful but needs to work on finishing plays. Much more of a project player than the other 3 are. Isn't what I'd consider a "must get" player to be honest, but could develop in to a pretty good guard.
I'd probably rank them Donaldson (of course), then a push between Telfort and Herbert, and then Slaton. You probably know better than I as far as how many lineman UM is looking to take this year, but in my opinion Slaton is an insurance policy in case they don't get the guys they really want and need. Donaldson is a must keep, Leatherwood would be an awesome flip, then I think Telfort and Herbert are very close behind them."
COACH B
"I only had to see the first 2 in action. Donaldson has aggressive great feet and speed. And takes on any kind of DLineman from speed to power and controls them. I would say he only needs improvement in playing smart, meaning not chasing or being overly aggressive."
"Telfort has OK feet but is a good polished OLineman. Like him more at tackle because I don't think he has the strength needed for guard. Needs to improve on pass protection and not leaning on rusher."
COACH C
"Slaton is everything you want in a guard, nasty, gets to second level. He's really a dancing bear."
"Herbert physical gets to second level, very good run blocker. Can easily get up to 300 pounds without losing mobility."
COACH D
"Donaldson by far is the biggest freak out of the four you asked. He's got violent hands, out-performed Alex leatherwood at paradise, great footwork can really play across the line, he can go to the second level get his hands on a linebacker and that backer is going no where. Can step in play day one. Donaldson can be scary good like top 5 pick in the draft."
"Telfort is a great prospect – he's got a mean streak to him, great violent hands, and good footwork. I see him as more of a right tackle at the next level. Big, big boy."
"Herbert definitely needs work. He moves his feet nice, though he does need the weight room. Shoots his hands well too – not as violent as I would like, but he is a definite take."
"Slaton by far needs the most work of the four. A college weight program will definitely help him get faster and stronger. Decent foot work and he can move, but a little slow. Once he gets those hands on you, you aren't going anywhere. Seems raw compared to the other three."
COACH E
"I coached against the heritage boys, so I saw those two live, the others I have not seen live nor on film. But I can tell you Kai is everything you want in a modern lineman – no gut on that guy, just the pure prototype in terms of size and athletic ability, great pass pro, could play in either man or zone blocking scheme with his athletic ability. Slaton is a big, beefy lineman who will just flat out maul you in the run game. I would want a guy like that on my team especially in a pro-style of offense."
COACH F
Dondaldson= much more athletic than he looks. Plays with effort and is a physical player. He will definitely play day 1. He could probably play guard but you want him to be the RT of the future.
Telfort= that's what a NFL tackle looks like in hs. Doesn't play with an edge and not particular explosive/violent. He's a take off of potential alone but needs time.
Herbert= a lesser polished David sharpe/Tyron smith coming out of high school. Basketball frame who's really developed since moving over to heritage. Left tackle build with great feet. Needs the weight room.
Slaton= built like Kendrick norton but the talent is obvious. Physical player but takes plays off. I think he's a guard based off of seeing him in person. Looks like he has short arms but could be wrong.