2019 WR Jashawn Sheffield talks Canes and Mark Richt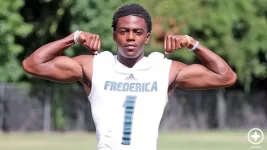 Photo Credit: Scout.com
Before Miami HC Mark Richt and TE Coach Todd Hartley meet with the Ambassador of the 2017 class DeeJay Dallas tonight, they stopped by Frederica Academy to visit 2019 wide receiver Jashawn Sheffield.
"Mark Richt and Coach Hartley stopped by my school today," said Sheffield. "It means a lot that they stopped by because they're the first school to stop by."
Sheffield is one of the most sought after recruits in the class of 2019 with schools like Ohio State, Clemson, Georgia after him, but the Hurricanes have caught his attention.
"I would say Clemson and Ohio State are recruiting me the hardest right now, but you can throw Miami into the mix now," said Sheffield. "I like the coaches at Miami -- Coach Richt, Coach Hartley and Coach Dugans -- I can see myself at Miami."
The Georgia native has never visited the Hurricanes, but it has crossed his mind before.
"I was going to visit last year with DeeJay, but something happened with the ride situation and I couldn't make it down. I really want to check it out -- Mark Richt was telling me today that he's ready for me to visit Paradise."
Here's Jahshawn's highlights
Sophomore Season - Jashawn Sheffield highlights - Hudl