2019 University School ATH Josh Sanguinetti talks recruitment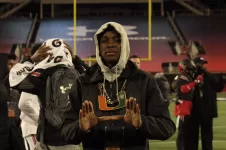 The state of Florida is once again loaded at the defensive back position in the class of 2019 with players like Akeem Dent, Te'Cory Couch, Tyrique Stevenson, and more, but one player who might be better than them all is 2019 University School DB Josh Sanguinetti.
"It's South Florida," Sanguinetti said. "We have the best players in the nation and when it comes to defensive backs, there's not one in the nation that can compete."
For a star like Sanguinetti, who is a dual-sport athlete and on his way to finishing high school with a 3.5 GPA, managing time can be a difficult thing, especially if you're on the level of Sanguinetti, who's ranked as one of the nation's top football players.
"On the days that I don't have basketball practice, I go workout and do some weight room stuff," Sanguinetti said. "People think since I play basketball also that I'm not going to be physically in shape for football, but that's the complete opposite."
For those that don't know, Sanguinetti plays on the #4 team in the nation at U. School with basketball phenom 2019 PF Vernon Carey Jr., who is ranked #1 overall in his class, and 2020 SF Scottie Barnes.
"It's amazing honestly because they push me to be a better person every day. It's very competitive. It's like we're playing the game before the game happens."
But Sanguinetti's main sport is football, where he shined immediately as a freshman; fast-forward three years, and now Sanguinetti will be a team leader on a loaded U. School team that has very high expectations for themselves.
"It's great to look at what has happened the last four years," Sanguinetti said. "Starting as a freshman to now being a senior, I'm the team leader and I just want to end it off by winning a state championship."
"My personal goals are 10 TD's, over 1,000 all-purpose yards, and winning states. It's either states or bust this season for us."
When it comes to recruiting, Sanguinetti says that the same main schools remain in the mix, while some other schools could soon join the fray.
"It's the same mix of schools still in it like Miami, Stanford, Ohio St, and Florida," Sanguinetti said. "Oregon, Oklahoma, Penn State, and some other schools are starting to get in the mix too."
Sanguinetti visited Stanford for the second time in five months last week and, while some think Stanford might be a long shot, that is clearly not the case.
"I love everything about Stanford," Sanguinetti said. "Coach Akina is a great guy, he's put a lot of players in the league and he knowns what he's talking about. He's like a defensive back guru."
For the local Hurricanes, Sanguinetti admits that they're building something special down in Coral Gables.
"Coach Richt is an awesome coach and Miami has straight dogs in their program. I want to be surrounded by the best players in the nation." Sanguinetti said. "Miami said that it doesn't matter what position I play, they just want me to be a Hurricane. Everyone on the staff is recruiting really hard and I will be on campus this upcoming Monday."
As a bonus, I asked Sanguinetti where he thinks teammate and Canes legacy Carey Jr. will end up and if he'll be playing college basketball for Miami fans.
"It's either Michigan St. or Duke," Sanguinetti said. "Miami is in it, I just think it's one of those two schools."