2019 blue-chip OL Lucas updates the latest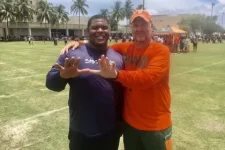 In order to continue making progress towards becoming a playoff team, Miami must keep adding pieces on the offensive and defensive lines. The Canes followed up a highly-rated 2017 OL class with a stellar group already signed for 2018 and hopes of getting another on board.
A major target for the 2019 cycle is Miami High OL Dontae Lucas, who the UM staff has been on since last spring.
"What I did well this season was get better on picking my guys up. Now in the off-season, I want to lose some weight, get faster, and just improve on my all-around game," Lucas said.
Lucas was around 345 pounds this season, but wants to drop 15 and have his playing weight closer to 330 for his senior year.
"I'll just be quicker, stronger, and be able to get to my blocks faster," he added.
The four-star lineman played in an all-star game for some of the top juniors in the state of Florida a couple weeks back — it was a valuable experience according to the mammoth prospect.
"That week showed me where I was at because I was competing against a lot of guys who are D1. It showed me what I needed to improve on for sure," Lucas said. "In practice, the top defensive ends I was going against were (Khris) Bogle and Jaquaze (Sorrells). Man, Bogle is legit."
Lucas, who played his first two years at Booker T before transferring to Miami High, has played both tackle and guard at times throughout his career — it does appear though, that he will be an interior lineman at the next level.
"Most schools really look at me as a guard, but I can go to college and play anything. I'll play wherever they need me at," he said.
When it comes to recruiting, his interest for the Canes is certainly there.
"I think Miami had a great season. To be honest with you, I think The U is back for good," Lucas said. "They're getting back by bringing in guys from here like DJ Ivey."
Lucas attended multiple Canes home games at Hard Rock Stadium this year, which definitely seemed like eye-opening experiences for him.
"The fans are crazy about The U. I've been to a bunch of other school's games and there's nothing like Miami fans," he explained.
"I've talked to Coach Searels about how Miami is the only place where my mom can come to see all of my games and where I can be around people I know."
Lucas added that Miami offensive line coach Stacy Searels is different from other coaches recruiting him because, "he's very energetic and actually cares about you as a person."
His spring and summer schedule will consist of visits to Alabama, Georgia, and other schools in the south. He said that his first visit will be to Miami, though.