2018 WR/DB Xavier Williams, a Hurricane again?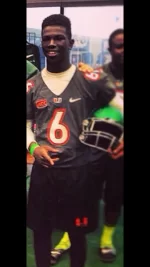 Earlier today, I had the chance to do an interview with Xavier Williams teammate and close friend Shaun "Worm" Shivers. Both from once South Florida high school football powerhouse Chaminade-Madonna.
I also had the chance to speak with Xavier Williams himself.
Xavier is another young, up and coming class of 2018 football prospect from Chaminade-Madonna. Standing in at 6'0" 175.
Xavier is only a freshman in high school but he has been receiving interest from some schools already. He also happens to be another in the duo of some of the youngest kids on the South Florida Express 7on7 team along with Shaun "Worm" Shivers.
I asked Xavier about his thoughts on Chaminade-Madonna's new head coach Jason Milgrom, the Cocoa Beach Pylon 7on7 event as well as his relationship with Miami Hurricanes wide receiver coach Kevin Beard. Xavier also happens to be a long time friend of a current Miami Hurricane commit in the interview below.
Geo: How does it feel to be one of the youngest kids on the South Florida Express 7on7 Team?

Xavier: "Well, it really is an honor. I knew going out there it was going to be a lot of competition. I really went out there to get better. Of course I wanted to make the team but I really was just trying to get better. Before you knew it I received a call saying I made the team."

Geo: Coach Jason Milgrom was recently hired as Chaminade-Madonna's new coach. He comes from a very good background of winning and state titles at St. Thomas. What is your thoughts on coach Milgrom?

Xavier: "Already I can see it's going to be a good season for Chaminade's football team. We've been working out before he got there today. He introduced us to Coach B (trained St. Thomas Aquinas). I can see Coach Milgrom already means business."

Geo: I had interviewed your teammate Shaun Shivers earlier today. Are the both of you very close to each other?

Xavier: "Of course, I first met Shaun during 90Lbs in Little League Football but we played for different teams the next year. So we had lost contact but since of two years me and Shaun have become closer. That's my brother."

Geo: You play wide receiver and defensive back for Chaminade-Madonna. Do you prefer to play one position or both and which do you feel you are best at?

Xavier: "I prefer to play both sides of the ball, you know. I have been playing wide receiver since I was like 6 years old, so I feel better at wide receiver but I really love the defensive back position too. It's really easy to lockdown other wideouts because I know the game very well, so I like both."

Geo: How would you describe yourself as a player and are there any players you watch or try to mold your game to?

Xavier: "Im very humble and a very hard working kid. I want greatness so I will go the extra mile to achieve it. I really like Sam Bruce from St. Thomas Aquinas game. I try to mold my game to his, as I talk to him almost every day. This summer hopefully we will be working out together. I like the way he knows how to get open no matter what the situation is."

Geo: Do you plan on going to any camps in the near future to showcase your skills and how was the Pylon 7on7 in Cocoa like?

Xavier: "Yeah I am going to the UM camp in June I think it is and that's it for now. Cocoa Beach was a great experience for me, a lot of competition. I was very timid at first but after that first catch I got to my regular self."

Geo: What are you looking to improve in your game going into your sophomore year?

Xavier: "On offense. Working the DB's frame, releasing off the ball, high pointing the ball, getting lower in my breaks at the top of the ball. On the defensive side. My off coverage, I really think I can improve in that area."

Geo: What do you think it will take for Chaminade-Madonna to get back to it's old dominance in South Florida Football, now that coach Milgrom is coming in?

Xavier: "Making it easier to get inside the school. Specifically the fees. Back then Chaminade didn't have a lot of fees, so a lot of kids were coming in. Plus they were winning. It's going be a lot of winning this year. So just getting inside the school easier would help."

Geo: The Miami Hurricanes, the hometown team. When you hear that, what comes to your mind?

Xavier: "Favorite school! I played for the Fort Lauderdale Hurricanes my whole entire little league career. I found out my 90Lb team in little league was just like the Miami Hurricanes, like the Canes were older. I just instantly fell in love."

Geo: Miami currently has two early commitments in Al Blades Jr. and Thomas Burns for the 2018 class. The class goes by the name of #Storm18. If the opportunity came up, would you be a Hurricane again?

Xavier: "That is my favorite school so if I have the opportunity to, I would be a Cane again, but I would also keep my options open. I also played with Al Blades Jr. my whole entire little league career, so that can play a role in going to Miami. Me and Al are very close to each other too."

Geo: Would playing with your teammate and close friend Shaun Shivers in college. Play a factor in your recruitment in the future? Also, have any schools expressed interest or offered you yet?

Xavier: "It might play a big role. Me and Shaun are very close, so we want to go to the same college. So far no schools have offered yet but University of Miami has been expressing interest. I talk to wide receiver coach Kevin Beard a lot. He's watched me grow up and play since I was little. Also coach McDonald from NC State."

Geo: Kevin Beard. A former Miami Hurricane, a National Championship winner and now Miami's wide receiver coach. Many people speak highly of coach Beard. What are your thoughts about Kevin Beard?

Xavier: "Thanks and coach Beard is one of the best coaches that have entered in my life. He's not just a coach, he's like a mentor. Because he has been through everything, so I really just soak in everything he tells me because I know it's something important."

Geo: Xavier do you have anything to tell Canes fans?

Xavier: "Don't be surprised if I'm throwing up The U with my close friend Al Blades Jr."
Xavier Williams Freshman highlights -
http://www.hudl.com/athlete/4068618/highlights/204431377/v2
You can follow Xavier Williams on twitter at -
http://www.twitter.com/zayborghini_6