2018 WR Austin forming relationship with Dugans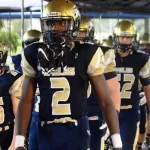 2018 WR Kevin Austin amassed over 1000 receiving yards, 700 rushing yards, and 21 total touchdowns during his junior season.
North Broward Prep implements a Wing-T offense with some packages with Austin at receiver and some at running back.
[HUDL]video/3/4844420/5869c482ff0d1a2db0ce7f2c[/HUDL]
In addition to football, the 6-3, 190-pound Austin is a standout on the track as well. He has a personal best time of 10.9 in the 100M, but his coach believes he can get that down to 10.6 during track season. Austin will also be running the 200M and 4x100M relay.
Some schools sticking out to the talented receiver prospect include Miami, Duke, Kentucky, Tennessee, Ohio State, and Florida. So what will Austin be looking for in the programs he's interested in?
"Academics, first and foremost. My parents push for that hard. From a football standpoint, the opportunity to play early is big. I want to be able to earn playing time on the depth chart and not go in to redshirt," Austin said.
The hometown Hurricanes have already offered Austin. Miami assistant coach Mike Rumph was at his school a week before signing day and he has already started to form a relationship with receivers coach Ron Dugans.
"It's a great program and I especially like what Coach Richt is doing now by bringing in some really great guys from a character standpoint and bringing in really great athletes too," he said. "They had an amazing season and the receivers looked great. When I went out there to the games, Coach Dugans told me to watch the receivers during the game. He always texts me to have a blessed day and he's always on the positive side."
After his big junior season campaign, Austin knows the spotlight will be on next year.
"We're losing our running back, who was the other key part of our offense this year. The defense will be focusing on me even more, so I'm basically going to be seeing triple-coverage every game," he said. "I need to get quicker and things like that."
He is not wasting any time with the recruiting process either, as he hits the road next weekend for Duke's junior day, Miami in May, and Kentucky, Tennessee, Notre Dame, and Oregon trips set for the summer.